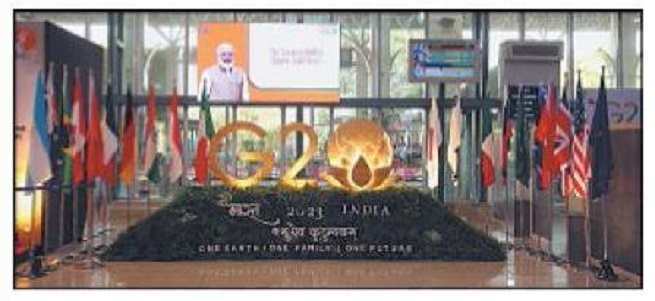 By Kartik Lokhande :
INDIA'S G20 Presidency is a uniqueopportunityinmany ways. There are some firsts. For the first time, three developingcountriesinG20 are part of 'Troika' of G20 Presidency,withIndiabeing thecurrenthost.Forthefirst time, an agreed document hasbeenissuedafterForeign Ministers'Meetingaspartof India's G20 Presidency. For the first time, Indian approach of constructive role of civil society organisations (CSOs)is being projected to the world.All these and more together constitute a 'watershed moment' for India, bolstering its already strong credentials for the Permanent Seatat the United Nations Security Council (UNSC). On the sidelines of Civil20 India 2023 Inception Conference in Nagpur, 'The Hitavada' connected with the persons, officials, and expertsintheknowofthings to getthe sense of what G20 PresidencyaswellasCivil20 vertical mean forIndia.The variedgroupof sources also pointed out certain issues arising out of'nuanced position'of especially Russia and China but said that India was working on finding commong round in the larger global interest.Thesetwo countriesdidnot sendtheir representatives to Civil20 Inception Conference at Nagpur, too. But the organisers were confident that theirrepresentatives would come for Civil20 Summit happening later on. Earlierthismonth,Chair's Summary and Outcome Document of Foreign Ministers' Meeting held in New Delhi as part of India's G20 Presidency was released.
All countries have endorsed it, despite divergence of views on Ukraine situation. This is the first time in G20 that an agreed document has been issued. Asmanyas22outof24paragraphs in the document have been agreed upon. Thus,alot of ground has been covered. According to sources, the divergence of views came from Russia and China. "But, this does not constituteasignificantdeviation from the past. Discussion on divergent views concerning Russia Ukraine conflict remains a work in progress, and India is hopeful of going forward constructively and reaching consensus," said an official in the know of things. The Chair'sSummaryand Outcome Document also mentions about strengthening multi-lateralism. However, already some other terms like pluri-lateralismandmulti-alignmentare being used at different forums. According to sources, all these terms are helpful in developing a shared agenda for global good. "One is not at the cost of other," they stressed.
A couple of days ago, Japan Prime Minister Fumio Kishida suggested for G7 and G20 countries to work together and collaborate. Indian observers feel that Kishida's statement takes further the stand of India, of 'One Earth, One Family, One Future', which is also the core principle of India's G20 Presidency this year. "No grouping is mutually exclusive. Hence, there is lot of scope to build on each other's strength and share a common and better future," said a source.
A lot of significance is being attached to India's G20 Presidency this year and the mention of 'big responsibility, bigger ambitions' cannot miss the eye. This mention is being interpreted as reference to India's aspirations of gaining Permanent Seat in the UNSC. The road to that pedestal entails a lot of long diplomatic exercises.
While India has the strongest credentials and the UNSC expansion is very much required, there are certain issues that India is working on. For instance, India favours text-based negotiations in the UN, where countries have nuanced positions on a variety of issues. In this given situation, consensus will have to be evolved on 'how to' and 'how much to' parts of expanding the UNSC.
According to sources, 'ground will have to be prepared' for this. As is the case, inter-governmental negotiations are yet to commence regarding text-based negotiations. Even for some draft to be ready, there has to be first a wider agreement on certain points. The desired outcome could be achieved only if there is consensus at these stages. The biggest part will then be two-third majority of the members remaining present and voting in favour of a country for UNSC Permanent Seat.
At present, India has the strongest credentials with rise in its global clout and growth in economy. There are other contenders too for UNSC seat like Brazil, Germany, and Japan. Then there are 'contenders of contenders' like Korea, Argentina, Italy, and Pakistan that want space to counter some other countries' presence. Then, there are aspiring African nations like Kenya, Nigeria, South Africa, and Egypt. India is keeping a close watch on the developing situation. G20 Presidency is offering an opportunity to India to evolve its response more dynamically. The recent remarks by Ambassador Ruchira Kamboj, Permanent Representative of India to the UN, also mentioned that G20 countries expressed their 'strong sentiment' on the need to strengthening multi-lateralism in the context of the 'dramatic changes' in the global order. It referred to UNGA Resolution 75/1, which called for the reform of the Security Council, revitalising the General Assembly, and strengthening the ECOSOC. "The same has been reaffirmed by the G20 so far, which under India's Presidency is witnessing a record participation," said the sources.
As far as Civil20 India 2023 is concerned, the sources underlined its significance by saying, "This is a watershed year for India on this count too. Apart from excellent participation and international projection being the big pluses, India has brought a new approach of civil society organisations to the world. The Indian approach is that civil society organisations are not restricted to being some protest movements, but as constructive contributors to socio-economic development of the world. These organisations can act positively to make the Earth sustainable."