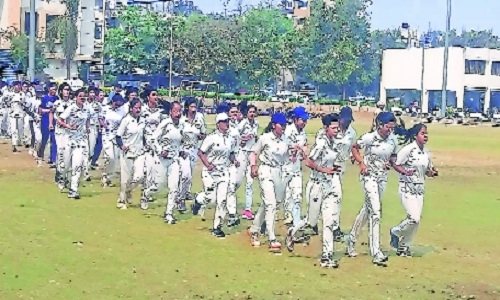 Sports Reporter
CALL it impact of the World Cup title win by the Under-19 girls or the advent of the Women's Premier League (WPL), there is a sudden spurt in girls' interest in cricket in the city. Cricket is already a religion in India with the men being treated as demigods. But the fairer sex is also making its presence felt of late in the country. Last month's World Cup victory by Shafali Verma-led Under-19 team has given more fillip to the slam bang game in India. This was evident by the fact that around 80 girls enrolled themselves for the selection trials of the Rashtrasant Tukadoji Maharaj Nagpur University team. The selection trials, which started on Thursday at Dr Ambedkar College ground, Deekshabhoomi saw girls, all attired in whites, lined up for the trials.
Earlier, there used to be hardly 25-30 interested players who used to enrol themselves for university trials. But this year, their number surprised everybody with around 80 registering for the trials. The WPL and T20 WC title win might be the reasons, but the fact is that Vidarbha girls are also performing well in the BCCI organised tournament.
The latest is the runners-up trophy which the Under-15 girls won in the maiden edition of tournament. Dr Arvind Joshi, Vice-Principal, Dr Ambedkar College, Deekshabhoomi and former Director of Department of Sports and Physical Education said that it was a pleasant surprise to see so many girls showing interest. "This is really an overwhelming response for the selection trials. The number has doubled from last year. This shows that parents of girls are also showing interest in cricket. This was not the case a couple of years ago," said Dr Joshi.
RTMNU does not conduct any inter-college cricket tournament for girls and directly organises selection trials. In coming years, they will have to ponder on holding competitions for girls as well. Prashant Bambal, one of the selectors said that it was all because of the approach of Vidarbha Cricket Association towards women's cricket. Therefor such a huge response from girls. "It all started when the then VCA president Adwait Manohar took charge. His committee showed keen interest in developing women's cricket in Vidarbha and Nagpur. The result is here to be seen," said Bambal.
"Now, the parents are also assured of a career in cricket for girls. Earlier, this mentality was not there. They now feel that girls cricket also has a future," he stated. This year's university trials saw around 20-25 girls from other districts of Nagpur (affiliated colleges with RTMNU). Golden days for girl cricket are in the offing, it seems.