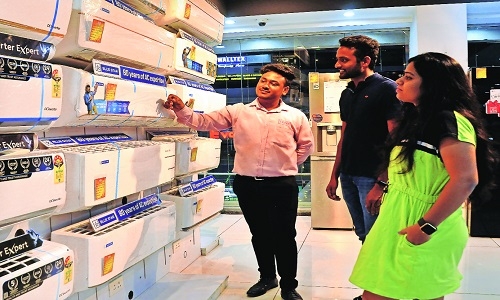 Business Bureau
Considering the predictions by the Meteorological Department of a longer summer accompanied by abnormal hot temperatures, a large number of dealers in air conditioners (A/Cs) are expecting heavy demand for these products after the festival of Holi. Dealers are very optimistic that there will be significant growth in demand for ACs this season. "Already we are getting large number of enquiries and witnessing pick-up in demand for air conditioners. We are projecting a growth in demand of about 40 to 45 per cent compared to the previous season, while the industry is expected to grow by 25 to 30 per cent," said Nihar Taori, Director of Taori Marketing, Dharampeth while talking to The Hitavada on Sunday. Taori further said that the A/C manufacturers have introduced a wide range of energy efficient inventor air conditioners with added features to attract the customers. Apart from this, the finance companies are offering lucrative finance schemes to benefit the customers. These factors will also contribute in pushing demand northwards.
"There has been a major shift in consumer behaviour in recent times. Now-a-days customers do their homework well in advance and come to the showroom well prepared. They will ask for a particular product, brand and model. Customers mostly prefer the 1.5 tonne air conditioners in the price range of Rs 35,000 to Rs 45,000," he said.
Various other products have been introduced by some of the manufacturers which people are preferring like the one way cassette air conditioner which is priced at about Rs 1.20 lakh. Another AC which gained preference of the consumers is the portable air conditioner. The air conditioner can be shifted from one room to another in an easy way. The AC comes in 1 tonne and 1.5 tonne and available at Rs 32,000 to Rs 33,000.
Representatives at A K Gandhi Marketing said that they are expecting sharp rise in demand for ACs this summer season. They are anticipating demand to rise by 15 to 20 per cent compared to the previous year. Already there is change in temperature as the month of February was hotter than normal. A K Gandhi Marketing has decked up for the season by introducing latest in air conditioners accompanied by various finance options and offering efficient after sales service. The extreme hot temperatures and scarcity of water have been projected this year which should push demand to a great extent. The peak demand will come after Holi. The months of March and April are considered as the peak season to buy ACs.
Jeevan Shivnani of Fairdeal said that he is expecting sales to double this season as compared to the previous season. The Star rating ACs introduced by manufacturers offer higher savings in power bills which would be favourable in the long run for consumers. With this, people would shift from using coolers to ACs. He said that a person can bring down the running cost of ACs under ideal conditions below Rs 1,000.
Although the prices have already increased by 10 per cent, consumers would still prefer to buy ACs due to various attractive benefits. Apart from energy efficient models the finance companies are giving cash back offers, and exchange schemes they are offering zero down payment, zero interest and zero processing fees to lure the consumers, he added.