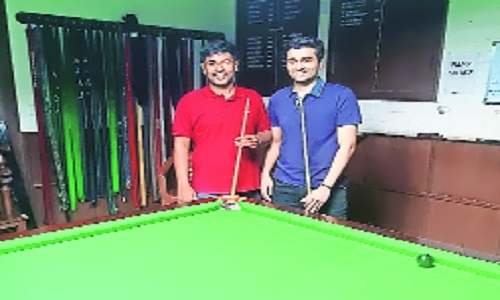 Sports Reporter
THE young and energetic pair of Namasyu Kabra and Dhruv Agrawal rallied brilliantly to stun seasoned duo of Sunil Kamwani and Abhishek Rai in a thrilling summit clash to win Raisaheb Madhavlal Tulsidas Parikh Memorial Snicket Tournament. In the best of five-frame final that lasted close to four hours, Kabra-Agrawal won 3-1.
After losing the first high-scoring frame 124-140, Kabra-Agrawal took the next three frames in a row. All the last three frames were see-saw affairs and could have gone either way. The younger pair kept their cool and was also had luck on their side as they took the second game 57-55 by just two runs to level the scores one frame all. In the third frame, Kabra and Agrawal were a shade better taking it 53-45. The senior combination of Kamwani and Rai gave their all in the fourth frame but again luck deserted them as Kabra-Agrawal pocketed it 121-117.
Earlier in the semis, Kabra-Agrawal were on a run posting a straight frames 67-21, 97-46 win over duo of Jatin Kale and Parth Majumdar. In the second last-four match, Kamwani-Rai defeated Raju Kamwani and Ujjwal Kothari in two high-scoring frames 112-105, 104-89. The prize distribution is scheduled for Wednesday.