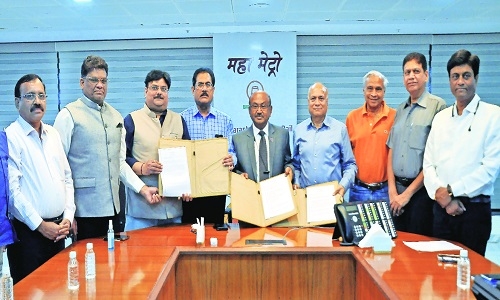 Business Bureau
MIHAN - Special Economic Zone (SEZ) has signed a memorandum of cooperation (MOC) with Construction Industry Development Council (CIDC) and Maha Metro, at Maha Metro office on Tuesday. Senior officers of MIHAN- SEZ, CIDC and Maha Metro including Dr V Sraman, Development Commissioner, MIHAN-SEZ; P R Swarup, Director General, CIDC; Sunil Mathur, Director, Maha Metro; Dr Dipen Agrawal, President of CAMIT; Govind Daga, officer-bearers of VED; Devendra Parekh, President of Vidarbha Economic Development Council (VED); Julfesh Shah, Preseident of COSIA Vidarbha; Navin Malewar, Treasurer, VED; and other members of Business Advisory Committee of MIHAN were present on the occasion. As per the memorandum of cooperation, MIHAN-SEZ and Maha Metro have joined hands with the CIDC to enhance effectively the outreach and transportation systems, while development of the Special Economic Zone to encourage business houses of the nation and also those coming from international markets, to nurture economic growth and development, while generating employment opportunities for youth and to enable the nation acquire the status of 'Vishwaguru'.
An integrated work plan in this regard will be deliberated during the national assembly of industry captains of the nation from April 10 to 12 in Delhi, in the 'India Construction Meet 2023 Conference and Exhibition' where several works and Infrastructure Ministry representatives from the South East Asian countries, SAARC regions, and also from Europe as well as North America are expected to join. The Business Advisory Committee (BAC) of MIHAN and the leading chambers of commerce of the region will be integral to this initiative.
CIDC is an organisation established by the Niti Aayog in association with the construction industry, and is the apex body to take up and promote activities for the development of the Indian construction industry. 'India Construction Week 2023' is a conglomeration of like-minded minds that will discuss, deliberate and showcase their best practices and technologies that will define the way forward for the 'Indian Construction Industry'. The targeted streams for the show will include, among others: project owners, project implementers, consultants / architects, material manufacturers, start ups, construction chemical manufacturers,IT and ITeS solution providers, construction equipment manufacturers, steel manufacturers, cement manufacturers, Ministry of Road Transport and Highways among others.