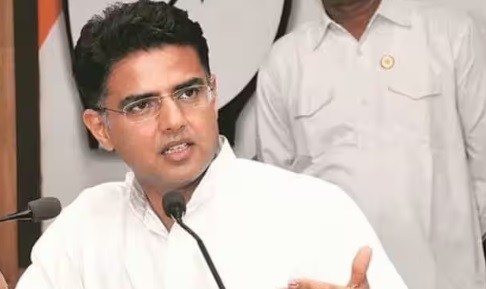 JAIPUR :
AHEAD of the Assembly polls in Rajasthan, former Deputy CM Sachin Pilot on Sunday opened a new front against CM Ashok Gehlot, announcing a day-long fast to seek action from his Government over alleged corruption during the BJP rule in the State. The development again brings into open the power tussle in the Congress between the Pilot and the Gehlot factions in the State, putting pressure on the central leadership to resolve it before the year-end polls. "No action was taken (by the Gehlot Government) on corruption by the previous Vasundhara Raje Government. While in Opposition, we had promised that an inquiry would be conducted in the mines scam of Rs 45,000 crore," Pilot said at a press conference at his residence here, announcing a hunger strike on Tuesday.
"With six-seven months left for the elections, the opponents can spread an illusion that there is some collusion. Therefore, action will have to be taken soon so that the Congress workers feel that there is no difference between our words and actions," he said. Pilot said he will observe a day-long fast at Shaheed Smarak on April 11 to press for his demand. Gehlot and Pilot have been at loggerheads over the post of the Chief Minister ever since the Congress formed the Government in Rajasthan in December 2018. The Opposition BJP said that Pilot should also demand an investigation into the alleged corruption during the Congress Government's tenure.
Leader of Opposition Rajendra Rathore said in a statement that the infighting between the Chief Minister and his former deputy has increased to such an extent that now Pilot will sit on hunger strike against his own Government. While a section of Congress leaders supported Pilot's demand, others claimed it would inflict great harm to the party in the upcoming election.