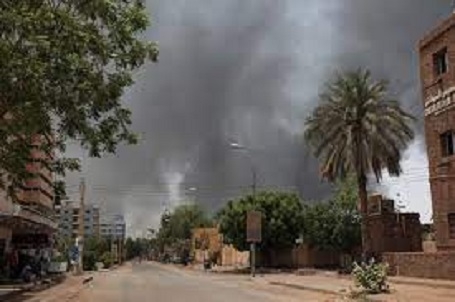 KHARTOUM :
The Rapid Support Forces militia claimed that they seized the city's airport and 'completely controlled' Khartoum's Republican Palace, the seat of the country's Presidency
A SUDANESE doctors' group said at least three people were killedanddozensmoreinjured inclashesthatstartedSaturday between the country's Army and powerful paramilitary. The fighting comes after months of escalating tensions betweenthegeneralsandyears of political unrest after an October 2021 military coup. In a statement, the Sudan Doctors' Committee said two civilianswerekilledatthecountry's airport and another man was shot to death in the State of North Kordofan. The statement did not specify how the two people had died atthe airport,whichwas a flashpointin therecentviolence,withthetwo forces battling to control it.
Thegroupaddedthatdozens more were injured around the country, with some in unstable condition. The clashes began on Saturday morning, with both sides blaming the otherforinitiatingtheviolence. Fierce clashes erupted on SaturdayinthecapitalandelsewhereintheAfricannation,raising fears of a wider conflict in the chaos-stricken country. In Khartoum, the sound of heavy firing could be heard in a number of areas, including the city center and the neighborhood of Bahri.
Ina seriesof statements, the Rapid Support Forces militia accused the army of attacking its forces at one of its bases in southKhartoum.Theyclaimed they seized the city's airport and "completely controlled" Khartoum'sRepublicanPalace, the seat of the country's presidency. The group also said it seized an airport and air base inthenorthern city ofMerowe some 350 kilometers (215 miles)northwestofKhartoum.