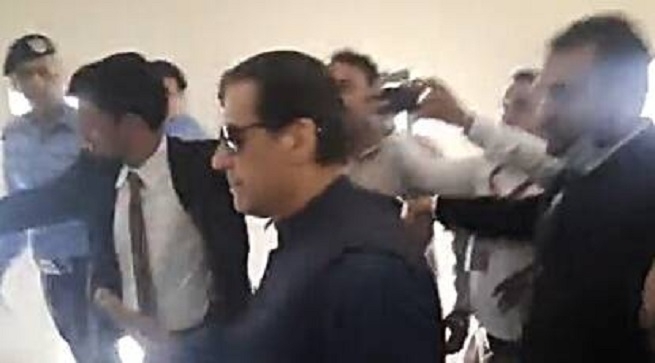 ISLAMABAD :
■
Pakistan's Supreme Court directed NAB to produce Imran Khan within an hour
IN A major relief for Imran Khan, Pakistan's Supreme Court on Thursday declared the former Prime Minister's arrest "illegal" and ordered his immediate release after he was produced before a bench on its orders. The order to produce 70-year-old Khan was issued by a three-member bench, comprising Chief Justice of Pakistan Umar Ata Bandial, Justice Muhammad Ali Mazhar and Justice Athar Minallah. The bench, which heard Pakistan Tehreek-e-Insaf chairman's plea against his arrest inthe Al-Qadir Trust case, expressed anger at the wayKhan was taken into custody from the premises of the Islamabad HighCourt. The bench had directed the National Accountability Bureau (NAB) to produce Khanwithin an hour. Khan was produced beforethe court amid tight security. As he entered the courtroom, it was closed, and subsequently the benchresumedthehearing of the case. "It is good to see you," Chief Justice Bandial told Khan.
"We believe that Imran Khan's arrest was illegal," the top judge said. HesaidthattheIslamabad High Court should hear the caseonFriday."You willhave to accept whatever the high court decides," the judge added. Bandial also said that it is every politician's responsibilitytoensurelawandorder. Earlier in the day, Bandial asked how an individual could be arrested from the court premises. Justice Minallah observed that Khan had indeed entered court premises. "How can anyone bedeniedtherighttojustice?" he asked. The court also observed that no one could be arrested from the court without permissionofthecourt'sregistrar. It observed that the arrest tantamount to denying access to justice withoutfear and intimation, which was the right of every citizen. It also said that by entering the premises of a court means surrendering to the courtandhowapersoncould be arrested after surrender. "Ifanindividualsurrendered to the court, then what does arresting them mean?" the chief justice said.