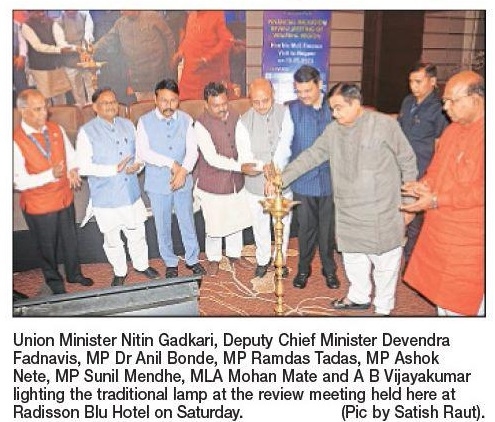 ■ Business Bureau
COMING down heavily against the bank officers for their poor performance in implementation of various financial schemes of the Government, Union Minister of State for Finance Dr Bhagwat Karad on Saturday said that notices would be issued to them. In a review meeting of financial schemes of the Central Government in the region, held at Radisson Blu Hotel on Wardha Road, Dr Bhagwat Karad said he would not tolerate lethargy in the implementation of the schemes meant for the welfare of poor and needy persons. Union Minister for Road Transport and Highways Nitin Gadkari, Maharashtra Deputy Chief Minister Devendra Fadnavis, MP Dr Anil Bonde, MP Ramdas Tadas, MP Ashok Nete, MP Sunil Mendhe, MLA Mohan Mate and others were also present on the occasion. "These ambitious schemes are designed to elevate the financial status of farmers, small traders and other persons belonging to financially weaker sections of the society. But it seems that neither the nitaionalised banks nor the private financial institutions in Vidarbharegion are payingheed to it," Dr Karad pointed out.
The progress report of the banks' achievements in all the districts of Vidarbha region, shown to the policy makers on the occasion, revealed that schemes like Pradhan Mantri Suraksha Bima Yojana (PMSBY ), Pradhan Mantri Jeevan Jyoti Bima Yojana (PMJJBY ) were not properly implemented by the banks in Washim, Gadchiroli and others districts. While performance of the natioanalised banks in this regard was not so good, private banks appeared to have deliberately chosen to ignore it. Expressing his displeasure over failure of the private bank officers in the implementation of the Government-sponsored schemes, Dr Karad said he would take up the matter with the Union Finance Minister. Apart from this, he asked the bank officers to reach out to the masses and expedite implementation of the schemes. "I will review the progress in the next meeting,"he said. Echoing similar sentiments,Gadkari said strict action isneeded against the underperforming bank officers.
"Thebank authorities should mention the officer's performancein their annual report whichwill decide his promotions.Wewill have to hold these officersresponsible for proper andeffective implementation ofthe welfare schemes," he said.Fadnavis also pulled up theprivate banks for having a disproportionately low share inthe schemes. At the outset,Chairman of State LevelBankers' Committee,Maharashtra, A BVijayakumargave the introductory remarkswhile Member SecretaryRajesh Deshmukh presentedthe progress report. Lead district bank managers of variousplaces, representatives of thebanks and others were present on the occasion.