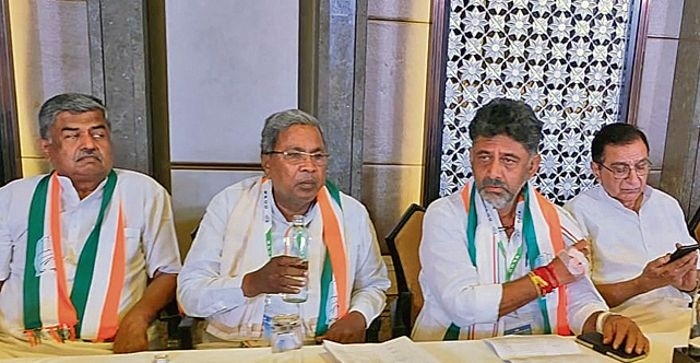 BENGALURU/NEW DELHI :
■

Lobbying for the top post is set to shift to Delhi with both the contenders (Siddaramaiah and D K Shivakumar) expected to arrive in Delhi to meet Sonia Gandhi, Rahul Gandhi and Kharge
NEWLY-elected Congress MLAs in Karnataka on Sunday authorised party president Mallikarjun Kharge to pick the next Chief Minister. The Congress Legislature Party (CLP), which met at a private hotel in Bengaluru Sunday evening, passed a unanimousresolution authorising the All India Congress Committee(AICC) president to pick itsleader, who will be the nextChief Minister. The CLP meeting was attended by AICC general secretary(organisation) K C Venugopal and three central observers. Before the meeting, Venugopal and the central observers held a meeting withLeader of Opposition in theoutgoing AssemblySiddaramaiah and KarnatakaPradesh Congress CommitteePresident D K Shivakumar --the two front-runners for theChief Minister's post.
"The Congress LegislatureParty unanimously resolvesthat the AICC President is here by authorised to appoint the new Leader of the Congress Legislature Party," according toa one-lineresolution passed at the CLP meeting. Siddaramaiah moved the resolution. With the ball now in Kharge'scourt,lobbyingforthe top post is set to shift to Delhi with both the contenders expectedtoarriveinthenational capital on Monday to meet Sonia Gandhi, Rahul Gandhi and Kharge. After the CLP meeting, Randeep Surjewala, AICC inchargeforKarnataka,said,"The MLAs will meet the central observers after dinner tonight and their decision will be conveyed to the party president fortakingadecisiontoappoint a new CLP leader." Venugopal said, "This process of taking the opinion of all MLAs will be completed tonight itself."
The Congress scored a thumping win in the May 10 Assembly polls as it secured 135 seats out of 224, while the BJP bagged only 66. After the results were declaredonSaturday,Congress PresidentKhargedeputedformer Maharashtra Chief MinisterSushilKumarShinde, AICCgeneralsecretaryJitendra Singh and former AICC general secretary Deepak Babaria as observers for the election of the CLP leader in Karnataka. The legislature party passed another resolution, moved by Shivakumar, promising to implement the five promises made to the people of Karnataka. The resolution stated the Congress Legislature Party in Karnataka "wholeheartedly expresses itsgratitudetowards the 6.5 crore Kannadigas for reposing their faith in us and giving a decisive mandate to the Congress Party in the Karnataka Assembly Elections." "This is indeed a victory of every Kannadiga, a victory of swabhimanaofKarnatakaand a victory of progress and harmony to rebuild 'Brand Karnataka'," it said. "...Karnatakahasonceagain shone a new light to democracy and protecting the Constitution, which are under attack from the forces of hate and divisiveness, both from inside and outside the State," the resolution stated.