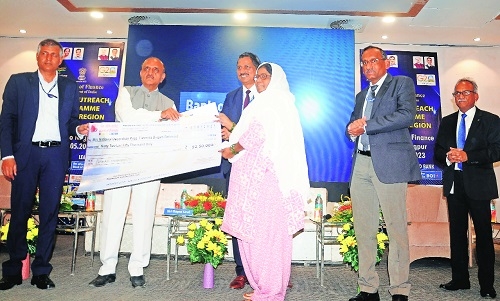 Business Bureau
Union Minister of State for Finance Dr Bhagwat Karad on Saturday said that the Narendra Modi Government has initiated many welfare schemes including PM Mudra Yojna, Atal Pension Yojna and Pradhan Mantri Jan Dhan Yojana among others to bring in financial prosperity and stability in the lives of people. While addressing the participants of the 'Credit Outreach Programme' held at Parwana Bhawan on Kingsway, Karad the schemes have brought prosperity in the lives of millions of poor by bringing them into the financial mainstream. He was chief guest of the 'Credit Outreach Programme' wherein 11,000 beneficiaries were given loans worth Rs 971 crore.
Karad further said that the Pradhan Mantri Jan-Dhan Yojana (PMJDY) was launched to ensure access to financial services to the poor people. "A large number of people across the country have opened bank accounts for the first time under the scheme. The scheme was a big success that changed the lives of people in remote areas and even in small villages," he said. PMJDY is a scheme for financial inclusion to ensure access to financial services, namely, basic savings and deposit accounts, remittance, credit, insurance, pension in an affordable manner. Pradhan Mantri Mudra Yojana (PMMY) was also launched by the Government to facilitate loans up to Rs 10 lakh to income generating micro enterprises engaged in the non farm sector in manufacturing, processing, trading or service sector. Similarly, the PM Street Vendor's AtmaNirbhar Nidhi (PM SVANidhi) was launched by the Government for providing affordable working capital loans to street vendors to resume their livelihoods that have been adversely affected due to Covid-19 lockdown.
In addition to this, PMSBY, an Accident Insurance Scheme offering accidental death and disability cover for death or disability on account of an accident was launched for the people. Karad appealed to the masses to take benefits of all these schemes. He also directed the bank officials to promote the schemes and ensure that more and more people could participate in it. A large number of bank officers, beneficiaries and others were present on the occasion.