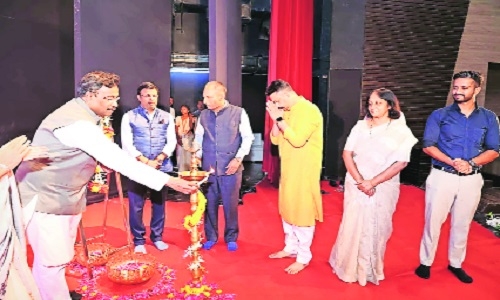 Business Bureau
In an attempt to improve awareness among women of self help groups (SHGs), cottage industries and other rural co-operative entities, an orientation and market access workshop was held at Suresh Bhat Sabhagruha here on Sunday. The event was organised by SimplyDesi, an initiative of Sahakar Bharti, in association with Flipkart. Vinod Tawde, National General Secretary, BJP; Rajneesh Kumar, Chief Corporate Affairs Officer, Flipkart Group; Swapnil Joshi well-known actor, Dinanath Thakur, National President, Sahakar Bharati, and Madhubala Saboo, Chairperson, SimplyDesi were present on the dais.
On the occasion, Tawde praised the efforts of Simplydesi and said that State and Central Governments are taking all possible steps to provide marketing platforms to self-employed women and members of SHGs. "Such platforms are helping these women in a big way by way of giving them easy access to push their products in the markets," he added. Thakur highlighted the role of co-operative movement in socio-economic development. Rajneesh Kumar assured all the participants to support them on Flipkart flatform and also guided them for marketing and business development. Speaking on the occasion, Swapnil Joshi praised the work commitment of Simplydesi.
Madhubala, Co-Founder, Simplydesi, said, "The partnership with Flipkart has helped us empower local rural women artisans and self-help groups with the knowledge and resources to understand the fast-growing e-commerce industry and leverage it for business growth. We believe that by organising such workshops, we can help them reach their full potential and showcase their unique and diverse offerings to the customers in India and by providing them with the knowledge and tools to thrive in today's competitive market. Together, we can foster a sustainable and self-reliant ecosystem."
Rajneesh Kumar, said, "Flipkart is committed to supporting and creating value for artisans, MSMEs, SHGs, and women-led enterprises across India. We are thrilled with the encouraging response to today's workshop. Through Flipkart Samarth, we aim to continue providing them with the knowledge, the tools, and the national market access they need to grow their businesses."In all, more than 1800 women entrepreneurs and members of self-help groups from 737 villages took part in the event. Swati Mohril and Kamlesh Falkunde conducted the proceedings while women's cell in charge of Sahakar Bharati Revati Shendurnikar proposed a vote of thanks.