'Indian embassies keen on facilitating overseas biz opportunities for residents'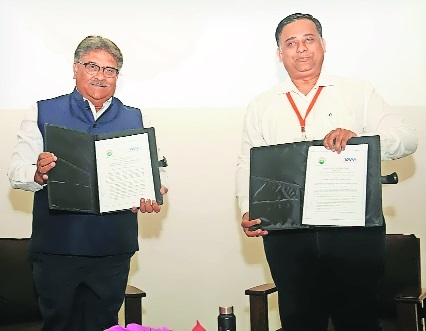 Anil Trigunayat and Saurabh Mohta with the MoU.
Business Bureau :
"From their previous identity, as centres limited to issuing visas and related documents for those travelling overseas, the Indian embassies have come a long way. Indian embassies are now considered facilitation hubs for those pursuing commercial interests beyond national boundaries", said former Ambassador Anil Trigunayat while speaking on the topic 'Exploring commercial opportunities in rising economies' organised by Vidarbha Management Association (VMA) here on Sunday. Trigunayat has served in many countries including Jordan and Libya in the past. Trigunayat said that all information relevant to exports is being amply satiated by embassies. This includes information about peer nations that we can trade with, the trade organisations active in those countries, and the segment-wise business opportunities available there. One has to simply access the correct portal and derive this information, which is certainly proving useful for business houses keen on expansion.
He said, "Indian embassies are now focusing on how they can leverage newer technologies for business. The collaborations and joint ventures (JV) can be economical modes of developing new technology, which would further mobilise our in-house businesses too, while inviting investments". On the occasion, VMA signed MoU with Millennial India International Chamber of Commerce Industry & Agriculture (MIICCIA) for cooperation over the development of international businesses for Vidarabines by organising seminars on the subject and arranging foreign delegations. It was signed by VMA President Saurabh Mohta and Anil Trigunayat. This MoU will help Vidarbha entrepreneurs to make a mark in the business world.The annual book of the VMA, titled 'Wisdom Fountain' was also released by Trigunayat.