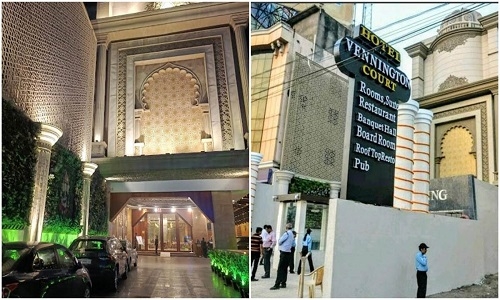 Staff Reporter
Raipur,
In a fresh crackdown against money laundering investigation into Rs 2000 crore liquor scam vertical, Enforcement Directorate (ED) on Monday provisionally attached 119 immovable properties worth over Rs 121 crore belonging to certain high-profile individuals, political executives and senior bureaucrats of Chhattisgarh, who allegedly ran and operated the liquor syndicate. The criminal syndicate generated illegal money to the tune of whopping Rs 2000 crore in a short span of time from 2019 and 2022.
Earlier, the federal agency had arrested Anwar Dhebar, Nitesh Purohit, Trilok Singh Dhillon and Arun Pati Tripathi for their role in the offence of money laundering. ED has also conducted more than 50 search operations at various locations in Raipur, Bhilai, Delhi, Kolkata and Mumbai and has been successful in seizing movable assets worth Rs 58 crore including cash, fixed deposits, shares and jewellery. Thus, the total seizure and attachment in the case stand at Rs 180 crore (approx.) "The attached properties mainly belong to alleged kingpin of the scam Anil Tuteja, a senior IAS officer of Chhattisgarh Government and Anwar Dhebar, brother of Raipur Mayor Aijaz Dhebar, who has been alleged to main collection agent and front man of the syndicate. The other attached properties attached by ED today belongs to Arunpati Tripathi, another key perpetrator of the scam, alleged to have played a crucial role in meticulous shaping, planning and execution of the scam. Tripathi Tripathi, basically an Indian Telecom Services (ITS) cadre officer, who had been working in Chhattisgarh for past over 7 years, was Managing Director of state body - Chhattisgarh State Marketing Corporation Limited (CSMCL) and also held the charge of Special Secretary, Excise Department, Chhattisgarh. Apropos, properties belonging to two other individuals involved in the scam, Arving Singh and Vikash Agrawal, have also been attached," said a senior ED official, privy to the investigation.
According to this official, the attached properties include 14 properties of Anil Tuteja, IAS worth Rs. 8.83 crore; 69 properties of Anwar Dhebar worth Rs. 98.78 crore; 3 properties of Vikash Agarwal alias Subbu worth Rs. 1.54 crore, 32 properties of Arvind Singh worth Rs. 11.35 crore and one property of Arunpati Tripathi worth Rs. 1.35 crore. "The attached properties of Anwar Dhebar also include Hotel Vennington Court, Raipur being run under the aegis of his firm, M/s A Dhebar Buildcon," he said and added that the further investigation is going on.
Meanwhile, knowledgeable sources in the federal agency have classified their ongoing probe into liquor scam under three parts, PART-A, PART-B and PART-C. "The part A is collection of money pertained to collecting commission from willing liquor players from CSMCL whereas Part B pertained with manufacture and sale of unaccounted illicit liquor and Part C pertains to bribes taken from distillers to allow them to make a cartel and have fixed market share," the sources explained. Sources also recalled that the court of 4th Additional Sessions Judge (Special Court, PMLA) in Raipur on Friday, May 19, sent Anwar Dhebar and Nitesh Purohit, promoter of Raipur-based Giriraj Hotel, to Raipur Central Jail under 14-day judicial custody after their custody with ED for interrogation expired.