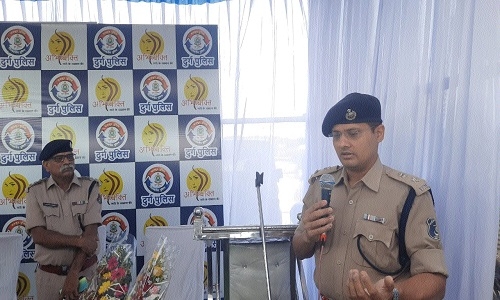 Staff Reporter
BHILAI,
POLICE Help Center was inaugurated at the hands of Dr Abhishek Pallava, Superintendent of Police (SP), Durg at Dabarapara intersection at highway in Bhilai-3 on Monday. The police help center has been opened as the intersection Dabarapara intersection has been marked as Black Spot owing to considerable number of road mishaps and it is also infamous for criminal movements.
Addressing at the formal inaugural function, SP Dr Pallava informed that with opening of police help center at the sensitive spot, the round the clock vigil will be maintained with 10 CCTV cameras and with presence of police officials and personnel. It will certainly curtail road mishaps and criminal movements in the infamous location.
At the outset the guests were accorded a warm welcome. ASP, Anantram Sahu, CSPs Prabhat Kumar, Ashish Banchhor, Rajeev Sharma, Dy SP (Traffic), Satish Thakur and several senior police officials and personnel were
present at the formal inaugural function.