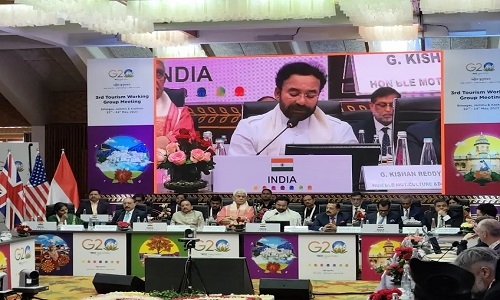 SRINAGAR,
JAMMU and Kashmir is a part of India, and Pakistan has no right to talk about it and should rather pay attention towards its own people, Union Tourism Minister G K Reddy said here on Tuesday. Speaking to reporters on the sidelines of the third G20 Tourism Working Group Meeting at the Sher-e-Kashmir International Convention Centre (SKICC) here, Reddy said Pakistan was battling a crisis and should focus on its own plight. "Whatever we do is for the benefit of our people. Who is Pakistan to say anything? What right does it have? J&K has been a part of India since Independence. This is our land, these are our people, and thousands of people have sacrificed their lives for it. Who is Pakistan to say anything," the Union Minister asked. Pakistan should pay attention to itself and do something for the betterment of its people. "Provide them employment, food... Why are you talking about us? You have no right. Pakistan is battling a crisis, people are dying of hunger, they do not get rice or gas, so it should focus there," Reddy said. He asserted that the people of Jammu and Kashmir were happy. The Centre was doing everything for them and would continue to do so in the future as well, he added.
"There is no need to give importance to what Pakistan says. Pakistan is finished. We do not have to think about Pakistan. We have to think about the people of J-K," the minister said. Talking about the Centre's initiatives on tourism, Reddy said India will hold a tourism summit to discuss the investments in popular tourist states like Jammu and Kashmir, Himachal and Uttarakhand. "We have to project India as the number-one destination globally. Private investment is necessary and without it, a huge country like India with such a huge population and lakhs of destinations cannot increase tourism," he said.
The Prime Minister Narendra Modi-led Government wants people from across the world to come and invest in tourist destinations to make them world-class, the minister said. Referring to the ongoing G20 meeting here, Reddy said such meetings would take place in the capitals of all states. He said 250 meetings will take place in 56 cities under the presidentship of India. "It was decided to organise this meeting in Srinagar, which is a historic city. However, some precautions had to be taken because it is after so many years that such an event is taking place here. J&K has seen many incidents, there were different problems in J&K, but now, the atmosphere is great here.
"People want development in J&K, they want infrastructure, employment generation at par with the rest of India. That is what the common people of J&K hope and expect. That is why we are taking J&K on the path of progress under the vision of PM Modi," Reddy said. He said the meeting will deliberate on the steps to be taken in order to double tourism's contribution to Jammu and Kashmir's GDP.