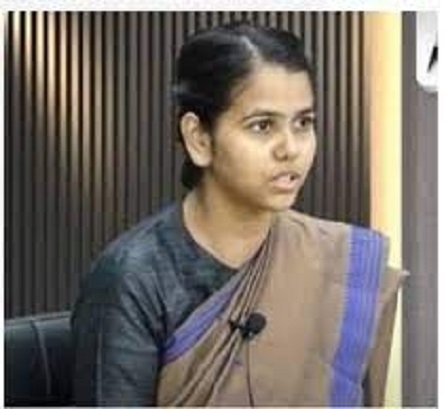 NEW DELHI :
Garima Lohia, Uma Harathi N, Smriti Mishra get 2nd, 3rd and fourth ranks respectively
WOMEN bagged the top four ranks in the civil services examination 2022 with Delhi University graduate Ishita Kishore securing the first spot, the Union Public Service Commission (UPSC) announced on Tuesday. Garima Lohia, Uma Harathi N and Smriti Mishra secured the second, third and fourth ranks respectively in the examination, results of which were declared on Tuesday. Lohia and Mishra are graduates of the University of Delhi, while Harathi N is a B.Tech degree holder from IIT-Hyderabad. This is the second year in a row when women candidates got the top three ranks in the prestigious exam. Shruti Sharma, Ankita Agarwal and Gamini Singla had secured the first, second and third positions respectively in the civil services examination 2021. As many as 933 candidates -- 613 men and 320 women -- have qualified the civil services examination 2022, the commission said.
The top 25 candidates comprise 14 women and 11 men, it said. The civil services examination is conducted annually in three stages -- preliminary, main and interview -- by the UPSC to select officers of IndianAdministrative Service(IAS),IndianForeign Service (IFS) and Indian Police Service (IPS) among others. Kishore qualified the examinationwith political science and international relations as her optional subject. She has graduated in Economics (Hons.) from Shri Ram College of Commerce, University of Delhi. Lohia, a graduate in Commerce from Kirorimal College, University of Delhi, secured the second rank with Commerce and Accountancy as her optional subject. HarathiN,aB.TechinCivil Engineering from IIT, Hyderabad stood third with Anthropologyasheroptional subject. Mishra, a graduate (B. Sc.) from Miranda HouseCollege, Universityof Delhi, stood fourth with Zoologyasheroptional subject. Educational qualifications of top 25 successful candidates rangefromgraduation inEngineering;Humanities; Science; Commerce and Medical Science from premier institutions of the country such as IIT, NIT, University of Delhi, Gujarat National Law University, Jadavpur University and Jiwaji University among others,the UPSC said.
Top 25 successful candidates have opted for subjects like Anthropology, Commerce & Accountancy, Economics, Electrical Engineering, Law, History, Mathematics, Political Science & International Relations, Philosophy, Sociology and Zoology as their optional choice in the written(main)examination, it added. The recommended candidates include 41 Persons with Benchmark Disability(14Orthopedically Handicapped,sevenVisually Challenged, 12 Hearing Impaired & 8 Multiple Disabilities). Out of the total qualified candidates this time, 345are from General category, 99 from Economically Weaker Section (EWS), 263 Other BackwardClasses(OBC),154 ScheduledCaste(SC)and72 from Scheduled Tribe (ST). A total of 178 candidates have been put in the reserve list as well, it said. Therewere1,022vacancies reported by the Centre to be filled through the civil services examination. It included 180 IAS officers, 38 IFS, 200 IPS, 473 in GroupA central services and 131 in Group B services, the UPSC said. UPSC has a 'Facilitation Counter' near Examination Hall in its campus. Candidates can obtain any information/clarification regarding their examinations/recruitments on the workingdaysbetween10AM to5PMinpersonorovertelephone nos. 011- 23385271/23381125/230985 43, it said. Result will also be available on the UPSC website i.e.Http//www.Upsc.Gov.In. "Markswillbeavailableon the website within 15 days from the date of declaration of result," the UPSC said. The civil services preliminary examination 2022 was conductedonJune5lastyear. A total of 11,35,697 candidates applied for this examination,outofwhich5,73,735 candidates actually appeared in it. A total of 13,090 candidates qualified for appearance in the written (main) examination which was held in September, 2022. A total of 2,529 candidates qualified for the personality test of the coveted examination. VERY EXCITING TIME TO BE SERVING NATION: PM MODI: PRIME Minister Narendra Modi on Tuesday congratulated the successful candidates in the civil services examination, and said it is a very exciting time to be serving the nation and bringingapositivedifference in the lives of people.