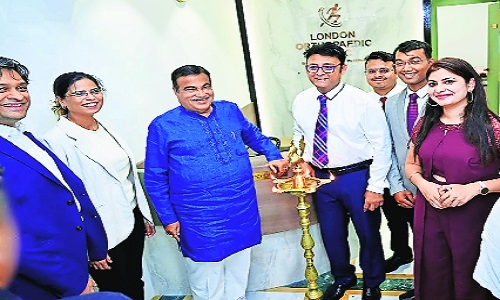 Business Bureau
London Orthopaedic Clinic, a new age, world-class orthopaedic clinic was inaugurated on May 21 by Union Minister of Road Transport and Highways Nitin Gadkari at Berar House, Mehadia Square, Dhantoli, Nagpur. The inauguration was attended by many prominent orthopaedic surgeons, top physicians and personalities from and around Nagpur. Dr Sharmila Tulpule who is an internationally renowned regenerative medicine expert also graced the occasion.
London Orthopaedic Clinic is centre of excellence for minimally invasive joint and spine surgeries and caters to all the orthopaedic needs related to sports and ligament injuries, arthritis, joint replacement and spine disorders It is the only centre in Central India providing GOLDIC therapy (A Next Generation Stem Cell Therapy) and all the non-surgical advanced regenerative medicine options for ones joint and spine diseases
London Orthopaedic Clinic has a team of Fellowship trained highly skilled orthopaedic surgeons headed by Dr Vishal Sahni, Director who is an internationally renowned shoulder and upper limb surgeon and has recently returned to India after a successful stint in UK for 18 years. For further details and appointment, interested may call (M: 9529552938) or Whatsapp (M: 8518881929).