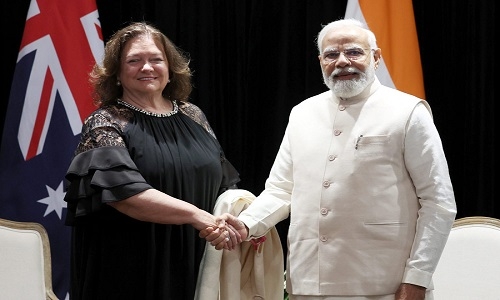 SYDNEY,
PRIME Minister Narendra Modi on Tuesday met business leaders of top Australian companies here and called for enhancing cooperation with the Indian industry in areas such as technology, skilling, and clean energy. Modi arrived in Sydney on Monday. Modi held bilateral meetings with Hancock Prospecting Executive Chairman Gina Rinehart, Fortescue Future Industry Executive Chairman Andrew Forrest, and AustraliaSuper CEO Paul Schroder. During his meeting with Rinehart, the Prime Minister highlighted the reforms and initiatives being undertaken in India and invited her to partner in technology, investment and skilling in the mining and minerals sector, a statement by the Ministry of External Affairs in New Delhi said. In a meeting with Schroder, he said that India is one of the most preferred major economies for foreign investments in the world and invited AustralianSuper to partner with India, it said.
AustralianSuper is an Australian superannuation fund headquartered in Melbourne. Similarly, during his meeting with Forrest, he welcomed the Group's plans to work with Indian companies in the field of Green Hydrogen.
"Emphasising India's ambitious renewable energy plans, the Prime Minister highlighted the transformative reforms and initiatives being taken by India, such as the Green Hydrogen Mission," it added. Forrest briefed the Prime Minister on Fortescue Future Industries' plans and projects in India. After the meeting, Schroder said that Australian super does invest in India and in particular in the National Indian Infrastructure Fund. Plane traces 'Welcome Modi' message in Sydney: 'WELCOME Modi' spelt by a recreational aircraft's contrails posed a mesmerising sight in the clear blue sky over Sydney ahead of the community event organised to greet Prime Minister Narendra Modi in Australia. A video of the skywriting has since then gone viral on social media.