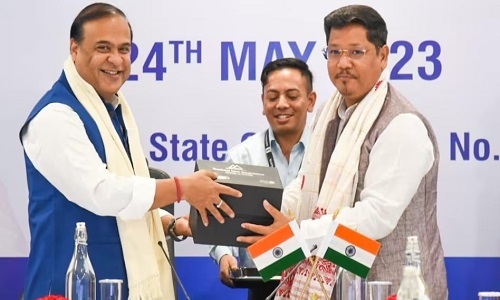 GUWAHATI,
ASSAM Chief Minister Himanta Biswa Sarma met Meghalaya CM Conrad K Sangma on Wednesday, and held discussions for resolving the disputes between the two Northeastern neighbours in the remaining six of the 12 locations. Addressing a press conference after the meeting, Sarma announced that he along with Sangma will visit the disputed areas in Assam's Karbi Anglong and Meghalaya's West Jaintia Hills, where the problem is "little bit complicated", next month.
"We will jointly visit Karbi Anglong and West Jaintia Hills districts in June-end as there is some unrest. It will be a confidence-building measure so that people on both sides are assured that we are resolving the differences," Sarma said. "I believe that through discussions, mutual trust and confidence, we will be able to resolve the other six areas of disputes much earlier than expected," he said. Sangma said that though the differences in these six areas are "complicated", these too can be resolved with a spirit of trust and friendship. "Things are complicated but we believe that when there is a will, there is a way," he said. Sangma said survey and other allied work in the six areas for which an agreement was signed between the two states in the first phase last year is underway. "We have asked different departments and the Survey of India to continue working in the first six areas," he said.
When asked if any deadline was set for finding solutions to the remaining six areas, Sarma said, "These six areas are a little bit complicated, putting a time frame is not a proper idea but we will meet in July to review the progress of work." Meghalaya was carved out of Assam as a separate state in 1972, and it challenged the Assam Reorganisation Act, 1971, leading to disputes in 12 areas of the 884.9-km-long border.