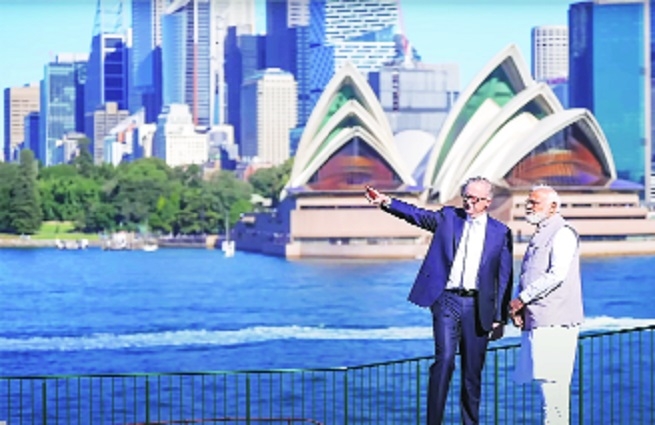 SYDNEY :
PRIME Minister Narendra Modi on Wednesday raised with his Australian counterpart Anthony Albanese India's concerns over incidents of attacks on temples and activities of pro-Khalistani elements in Australia, even as the two sides aimed to firm up a comprehensive trade pact by the end of the year. After wide-ranging talks between Modi and Albanese, India and Australia inked a migration and mobility partnership pact that is aimed at promoting two-way mobility of students, academic researchers and business people and preventing illegal migration. The discussions that took place on the third and final day of Modi's visit to Australia focused on the entire gamut of bilateral engagement as well as the possibility of cooperation in new areas such as critical minerals and renewable energy. Modi left for home after holding wide-ranging talks with his Australian counterpart Anthony Albanese and attending a special community event here. The Prime Minister used a cricket analogy to describe the fast-expanding India-Australia ties, saying the relations have entered the "T-20 mode". "I am visiting Australia within two months of the visit of my friend, Prime Minister Albanese to India. This is our sixth meeting in the past one year.
This reflects a depth in our comprehensive relations, convergence in our views, and the maturity of our ties," he said. "In the language of cricket, our ties have reached the T20 mode," Modi said. "The India-Australia friendship is a special one." He also invited Albanese and Australian cricket fans to India for the Cricket World Cup tournament which is taking place in the country later this year. Modi and Albanese also witnessed the signing of the terms of reference of the Australia-India Green Hydrogen Taskforce which will explore opportunities in the area of renewable hydrogen. In his media statement in the presence of Albanese, Modi said the bilateral relations are based on "mutual trust and respect" and that the Indian community in Australia is a "living bridge" between the two countries. "Prime Minister Albanese and I have in the past discussed the issue of attacks on temples in Australia and activities of separatist elements.
We discussed it today also," he said. "We will not accept any elements that harm the friendly and warm ties between India and Australia by their actions or thoughts. I thank the Prime Minister for the actions that have already been taken. Prime Minister Albanese has once again assured me today that he will take strict actions against such elements in the future also," Modi said.