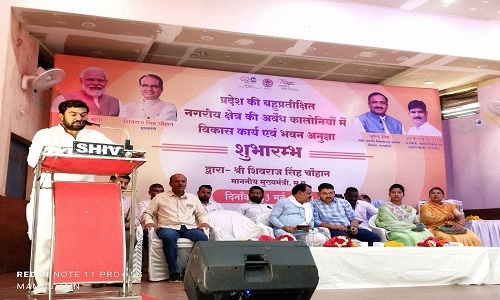 Our Correspondent
CHHINDWARA,
Chief Minister Shivraj Singh Chouhan's virtual programme organised at local Girls College Chhindwara took place in presence of District BJP President, Vivek Bunty Sahu and senior leaders. Chief Minister Shivraj Singh Chouhan announced that Madhya Pradesh's illegal colony will now become legal.
Municipal Corporation Chhindwara has more than 170 illegal colonies, all of which will now become legal by the order of Chief Minister. With this order, all the illegal colonies in the city will be legalised and the general public will be benefited. On this occasion, District BJP President Vivek Bunty Sahu and residents of the illegal colony thanked and expressed happiness to the Chief Minister, Shivraj Singh Chouhan.
Municipal Corporation Leader of Opposition Vijay Pandey, BJP Mandal President, Rohit Pofli, BJP Backward Classes Morcha District President, Jagendra Aldak, BJP Mahila Morcha District President, Garima Prateek Damodar, Commissioner, SDM Atul Singh, corporator Sangeeta Suresh Uike, Public Participation President, Bharat Ghai, Rakesh Michael Pahade, Rahul Uike, Sanjeev Rangu Yadav and a large number of general public were present.