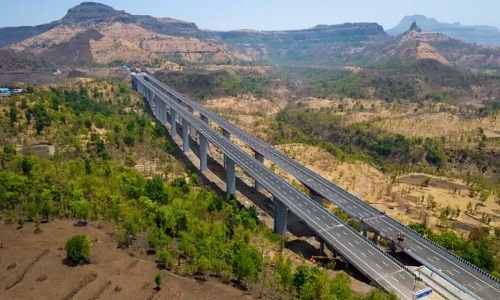 Staff Reporter
NAGPUR,
WITH balance portion of Samruddhi Mahamarg being readied for opening, for motorist a tantalising view awaits as they drive through Package-14 that boasts of breathtaking view of Sahyadri mountain range. Further this road stretch is having country's widest and Maharashtra's longest road tunnels. As one heads out of Viaduct-II people would be cursing through Igatpuri section that is bounded by dense forest area and scenic mountain region.
In fact, the twin mega tunnels were completed in early 2021, in a record time of two years, Viaduct-II has come about on time to complete PKG-14 in its totality. Again the task of construction was handled by M/s Afcons Infrastructure Ltd., one of the leading construction firm of country. The Viaduct-II is 1.2 Km long and company officials said it was the second most challenging part of the project after the tunnels. They had to be constructed over a forest area with practically no approach roads," said Sekhar Das, Project Manager. In the absence of access roads, transportation of material to Viaduct-II location was a major challenge. First, permissions were obtained from the authorities for constructing a new pipe culvert bridge for movement of heavy vehicles and widening hairpin bends for the passage of heavy vehicles. On top of that negotiating the monsoon and setting up a camp in the area was an extraordinary task.
It may be mentioned that Igatpuri is the highest rainfall zone in Maharashtra and some years we faced unprecedented rainfall that took a toll on our tunnel construction as well as impeding our efforts at Viaduct-II. Because of a dense forest area, lack of access roads, mountainous terrain, and high rainfall, we had to tread with extreme precaution. Due to heavy showers and dense fog, visibility remained an issue. However, we used the best safety practices to enable a safe work environment," added Das. Besides location challenge, at Viaduct-II the height was another challenge that needed to be surmounted. The viaduct is a balanced cantilever cast in-situ bridge with a length of 1.2 Km. There are 35 piers with the highest pier standing at 60m (equivalent to 20 floors). There are 29 spans and the longest span measures 98m. Working at 60m height in a valley facing strong wind and heavy rainfall was not easy task.
The Package-14 of the Maharashtra Samruddhi Mahamarg comprises 7.78 Km long twin tunnels, two viaducts, one interchange, a toll plaza, multiple cross passages, and box culverts. The package is 13.1 Km long and will connect Pimpri Saroddin in Nashik with Vashala Budruk in Thane. Once commissioned, it will give a significant boost to industries and tourism in Nashik district.