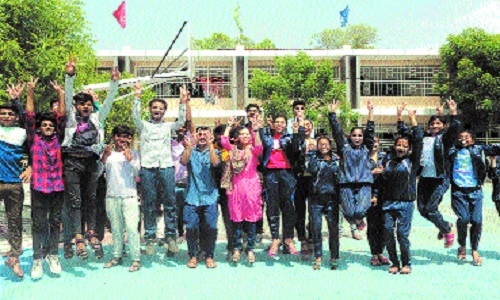 Staff Reporter
Madhya Pradesh Board of Secondary Education (MPBSE) has released result for classes X and XII on Thursday. State School Education Minister Indar Singh Parmar released the result digitally with single click. Molee Nema from Amarwada in Chhindwara district is the State topper in XII. Sonakshi Parmar from Bhopal and Samika shared second position in the State while Aarya Jhiri from Narsinghpur is third topper in State. This is the second time when board has declared result of both the classes together. Class X exam was conducted from March 1 to 27 and class XII exam was held from March 2 to April 1. There were total 3,852 exam centres across the State, including 3099 centres at Government schools and 753 centres at private schools. More than 35,000 teachers evaluated the copies in 60 days.
Girls outshine boys in both X and XII. In comparison to year 2022, class X result remained better while class XII result has dropped by a few percentage. In the year 2022, 75.64% girls passed the exam and total passing percentage remained as 69.94 %. Student unsatisfied with the result can apply for scrutiny.
Mridul Pande from Indore (494/500) got first rank in State in class X, Prachi Garhwal from Indore, Kirtiprabha Mishra from Sidhi and Sneha Lodhi from Narsinghpur (493/500) shared the second position. Anubhav Gupta from Umaria, Abhisekh Parmar from Shajapur, Unnati Agrawal from Tikamgarh, Astha Singh from Chhattarpur, Radha Sahu from Dabara, Sudiksha Katare from Gwalior and Priya Thakre from Balaghat shared the third position in State in class X. After result, MPBSE has also released the merit list of both classes. Passing percentage of class X remained as 63.29 per cent while for class XII passing percentage remained as 55.28 per cent. A total of 18 lakh students appeared in both the exams. Students can check their result from portal and MPBSE mobile app. MPBSE is also providing retotalling and copy checking facility to the students. Students interested for the same are allowed to apply within 15 days of result. Any student having doubt on evaluation can apply for re-totalling or copy checking. After finding any mistake, rectified result will be released by the board.
63.29% class X examinees clear exam: There were 8,20,014 students registered for class X out of which 8,15,364 appeared at centre for writing the exam. Total 5,15,955 students passed the class X exam in State. Class XII result goes down by 17.94%: In higher secondary classes, result of regular students remained as 55.28% while in 2022, it was 72.72%. This year result of regular students declined by 17.47 %. Result of private examinees remained as 18.15% while in 2022 it was 32.90%. This year result of private examinees declined by 17.94%.