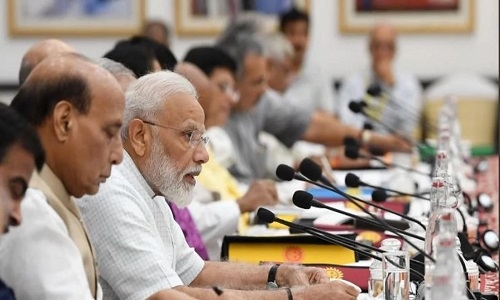 Delhi bureau and Agencies
NEW DELHI,
PRIME Minister Narendra Modi will chair NITI Aayog's eighth Governing Council meeting on May 27, which will deliberate on several issues including, health, skill development, women empowerment and infrastructure development, with an aim to make India a developed nation by 2047. The council, the apex body of NITI Aayog, includes all Chief Ministers, Lieutenant Governors of Union Territories, and several Union Ministers. Modi is the Chairman of NITI Aayog.
"NITI Aayog will be organising its 8th Governing Council Meeting on the theme of 'Viksit Bharat @ 2047: Role of Team India' on May 27, 2023," the Aayog said in a statement. The statement noted that as the world's fifth largest economy and the most populous nation, India is at a stage in its economic development trajectory where it can achieve accelerated growth over the next 25 years. In this context, the statement said the 8th Governing Council Meeting provides an opportunity to create a roadmap for Viksit Bharat by 2047 in which Centre and states can work together as Team India.
"Eight prominent themes will be discussed, including Viksit
[email protected]
, thrust on MSMEs, infrastructure and investments, minimising compliances, women empowerment, health and nutrition, skill development, and Gati Shakti for area development and social infrastructure," the statement said. According to the statement, as a prelude to the 8th Governing Council meeting, the 2nd Chief Secretaries Conference was held in January 2023 where these themes were extensively discussed.