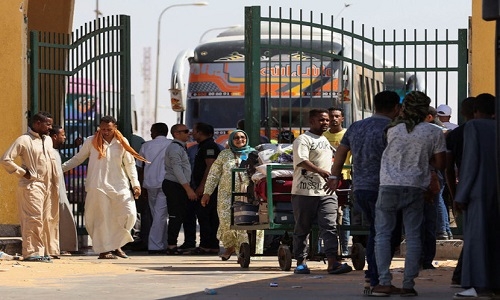 CAIRO,
SUDANESE fleeing the fighting between rival generals in their capital flooded an already overwhelmed city on the Red Sea and Sudan's northern borders with Egypt, as explosions and gunfire echoed on Tuesday in Khartoum.
Many exhausted Sudanese and foreigners arrived in Port Sudan, the country's main seaport, joining thousands who have waited for days to be evacuated out of the chaos-stricken nation. Others have been driven in packed buses and trucks, seeking shelter in Egypt, Sudan's northern neighbour. "Much of the capital has become empty," said Abdalla al-Fatih, a Khartoum resident, "all residents of our street fled the war." The fighting, now in its third week, has turned Khartoum and its neighbouring city of Omdurman into a battlefield. Fierce clashes taking place inside residential neighbourhoods that have become "ghost areas", residents say. The conflict, which capped months of worsening tensions, pits the military, led by General Abdel-Fattah Burhan, against a rival paramilitary group called the Rapid Support Forces, commanded by General Mohamed Hamdan Dagalo.
Al-Fatih's family managed to get out of Khartoum over the weekend after they spent the past two weeks trapped in their home in Khartoum's neighbourhood of Kafouri, a major flashpoint since the fighting broke out on April 15.
They arrived in Port Sudan late on Monday, after an exhausting 20-hour trip, he said. There, they found thousands, including many women and children, camping outside the port area. Many had been there for more than a week, with no food and other services, he said.
Port Sudan has become a hub for foreign Governments to evacuate their citizens air and sea. At the congested crossing points with Egypt, thousands of families have waited for days inside buses or sought temporary shelter in the border city of Wadi Halfa to finalise their paperwork to be allowed into Egypt. Yusuf Abdel-Rahman is a Sudanese university student who crossed into Egypt along his family, through the Ashkit crossing point late on Monday. They spent their night at a community hostel in Egypt's southern city of Aswan, and plan to board a train to Cairo later Tuesday, he said. Abdel-Rahman's family went first to the Arqin crossing point over the weekend. It was overcrowded and they couldn't reach the Customs area. They then decided to move to the Ashkit crossing.