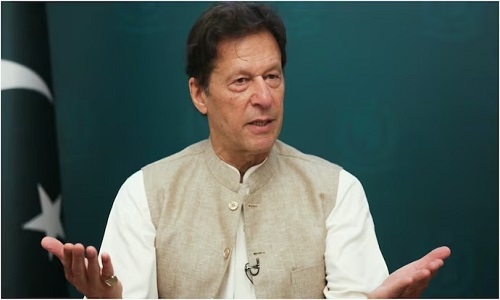 By Sajjad Hussain
ISLAMABAD,
A PAKISTAN anti-corruption court on Wednesday granted bail to former premier Imran Khan until June 19 in the Al-Qadir Trust case involving an alleged corruption of over Rs 50 billion. Khan appeared before the Islamabad-based accountability court after the High Court here earlier in the day extended the Pakistan Tehreek-e-Insaf (PTI) chief's protective bail for three days and directed him to seek bail from the anti-corruption court within this period. Accountability court Judge Muhammad Bashir, presiding over the hearing, granted Khan bail till June 19 against surety bonds worth Rs 500,000.
Earlier, Khan travelled from Lahore to the capital and first appeared before the Islamabad High Court (IHC) where Justice Miangul Hasan Aurangzeb and Justice Saman Rifat Imtiaz granted him three-day protective bail with direction to go to the anti-corruption court for bail. The court had earlier on May 17 given him bail till May 31. Khawaja Haris counsel for Khan was present in the court while the National Accountability Bureau (NAB) was represented by prosecutor Muazaffar Abbassi in the alleged corruption case that led to Khan's arrest on May 9 in the Islamabad High Court premises.
The cricketer-turned-politician's arrest led to massive protests across Pakistan that left more than 10 persons dead and thousands of PTI supporters behind bars. The PTI chief was two days later released by the Supreme Court with the direction to seek bail from the Islamabad High Court. In an informal chat with the media persons on the occasion, Khan said the powerful establishment was running the country. "The Government and establishment are the same thing, the latter is running the former," he said, adding that there is no choice except to hold elections. Khan has been demanding early general elections in Pakistan since he was ousted as Prime Minister through a no-confidence vote in Parliament in April last year.