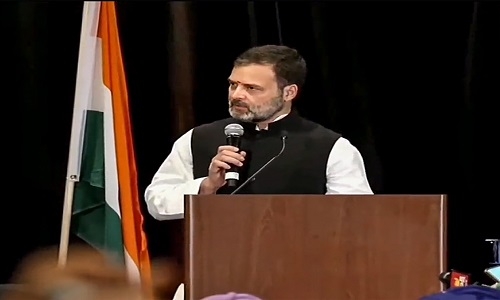 SANTA CLARA/NEW DELHI,
RAHUL Gandhi took a dig at Prime Minister Narendra Modi on Wednesday, describing him as a "specimen" who thinks he knows more than God and alleged that the idea of India is under attack, prompting a furious BJP to slam him as a "fake Gandhi" who "insults" India on the foreign soil in his bid to target Modi. BJP leaders launched an all-out attack on the former Congress President for his swipe at Modi and his dispensation, with Information and Broadcasting Minister Anurag Thakur claiming that Gandhi goes abroad on "sponsored programmes" for "anti-India propaganda" to insult the country on the foreign soil. Addressing Indian Americans in Santa Clara in the US, the Congress leader said, "That is the disease. We have a group of people in India, who are absolutely convinced that they know everything. In fact, they think they know even better than God. They can sit down with God and have a conversation and explain to him about what is going on. Of course, our Prime Minister is one such specimen."
Speaking at the 'Mohabbat Ki Dukaan' event organised by the Indian Overseas Congress USA, Gandhi also took an apparent jibe at the Modi Government saying these people are "absolutely convinced" that they know everything and can explain history to historians, science to scientists and warfare to the army.
"There is a group of people in India who are absolutely convinced they know everything. They think they know even more than God. "They can sit with God and explain to him what's going on. And of course, our Prime Minister is one such specimen. If you sat Modiji with God, he will explain to God how the universe works and God will get confused about what have I created," he said, evoking laughter from the audience. Khalistani supporters heckle Rahul Gandhi: CONGRESS leader Rahul Gandhi was heckled by a group of Khalistani supporters who raised slogans against him and briefly interrupted his speech during an event here in the US state of California. An unperturbed Gandhi smiled in response to sloganeering and said: 'Welcome, welcome ... Nafrat ke bazaar mein mohabbat ki dukan'.