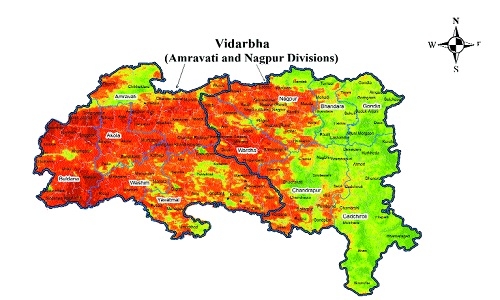 By Dheeraj Fartode
THE Land Surface Temperature (LST) in Vidarbha soared as high as 48°C in May, posing serious threats to soil health, water resources, agriculture, and the overall environmental balance, a study has found out. Soaring of LST from 38°C in the first week of May to above 48°C within two weeks reveals a concerning trend of suddenly escalating temperatures. The information came to fore in a study conducted by the Watershed Organisation Trust's Centre for Resilience Studies, which used data from (Moderate Resolution Imaging Spectroradiometer) MODIS, a key instrument aboard the Terra and Aqua satellites.
Further zoom-in to the LST map revealed that Narkhed, Katol, Saoner, Mauda, Nagpur Rural of Nagpur district; Arvi, Wardha, Deoli, Hinganghat, Ashti of Wardha district; Korpana in Chandrapur district; entire Buldhana district; all blocks of Akola district except Partur and Barshitakali blocks; Anjangaon Surji, Daryapur, Morshi of Amravati district; Risod, Malegaon, Washim of Washim district and Ralegaon, Maregaon of Yavatmal district have shown drastic rise in the LST in May. However, regions with forests and dense vegetation, such as a portion of Gondia and Gadchiroli districts, experienced comparatively lower LST, due to the cooling effect of ample vegetation cover, the study report said.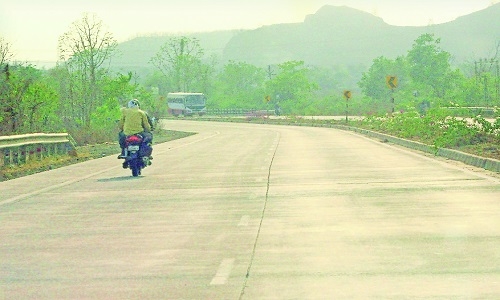 Higher LST leads to a loss of microbes and moisture in the soil and it could also affect crop yield in Vidarbha region. LST is a critical parameter for monitoring global changes, including heat flux and surface temperature, offering valuable insights into surface energy balance, environmental climate change, ecosystem dynamics, and natural resource management. The rise in LST levels has been linked to the occurrence of extreme weather phenomena such as droughts and heat waves, which have severe negative impacts on ecosystems, livelihoods, and biodiversity, the report explained. The study suggested that multiple factors influence the LST of a specific location, such as surface air temperature, soil moisture, soil roughness, vegetation type, elevation, and the balance between shortwave and longwave radiation. These elements collectively contribute to the determination of LST and its variations across different regions. Besides Vidarbha, increase in LST was also observed in Marathwada, Konkan, and parts of western Maharashtra. The impacts of rising LST extend to both rural and urban areas, endangering crop yields, livelihoods, and ecosystems. The report suggested urgent measures to mitigate and adapt to these temperature increases. This includes efficient water resource management, adoption of sustainable agricultural practices, and enhanced preparedness for heatwaves. Moreover, global efforts to reduce greenhouse gas emissions and combating climate change are crucial for long-term mitigation of LST rise, the report stated.