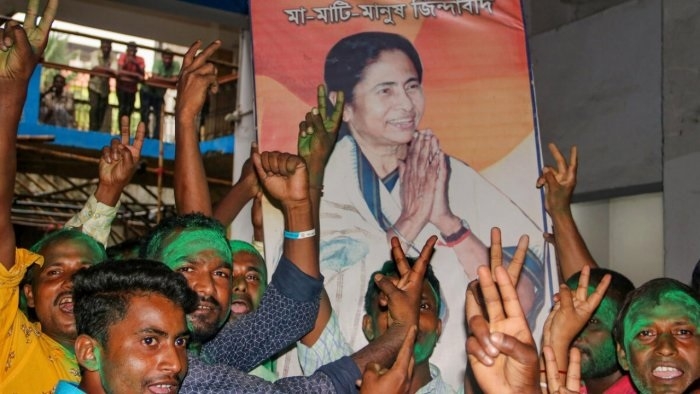 KOLKATA :
TMC bags 34,913 of 63,229 Gram Panchayat seats, 6,430 of 9,728 Panchayat Samiti seats and 674 of 928 Zila Parishad seats
THE ruling Trinamool Congress on Wednesday inched closer to a sweeping victory in WBengal's violence-scarred rural polls, bagging more than half the seats and leaving its rivals trailing way behind in results declared till now by the State Election Commission. The TMC has won 34,913 Gram Panchayat seats, besides leading in 607 seats, according to the SEC as of 7.30 pm on Wednesday. In all elections are being held for 63,229 Gram Panchayat seats. The ruling party's nearest rival BJP has won 9,722 seats and is leading in 150 seats. The CPI(M) has won 2,937 and is leading in 67 seats. The Congress won 2,543 seats and is leading in 63.
The ruling TMC won 6,430 Panchayat Samiti seats while leading 195 seats. BJP has won 982 and is leading in 54 seats, while CPI(M) has won 176 seats and is leading in 15 and Congress has won in 266 seats and is leading in 6 seats. Elections were held for 9,728 panchayat samiti seats. TMC has also won 674 Zila Parishad seats so far and is leading in 149 others, with this it seems set to repeat its 2018 performance of controlling all the Zila Parishads, despite marginally better showing by the BJP and CPI(M)-Congress alliance in some districts.
The BJP has in contrast won 21 and is leading in 5 seats. The CPI(M) has won 2 seats, while Congress has won 6 and is leading in 5. In all, there are 928 Zila Parishad seats. In Bhangore in South 24 Parganas, three persons including two activists of the Indian Secular Front (ISF) were killed and several others injured in a clash which took place outside a counting booth late Tuesday night, police said on Wednesday. A 24-year-old Congress workers was beaten to death on Wednesday while several others were injured after a clash between TMC and Congress supporters in Rampur village in Malda district, police said. TMC officials also claimed that a party worker from South 24 Parganas district's Chandpasha village was hacked to death by "BJP goons"