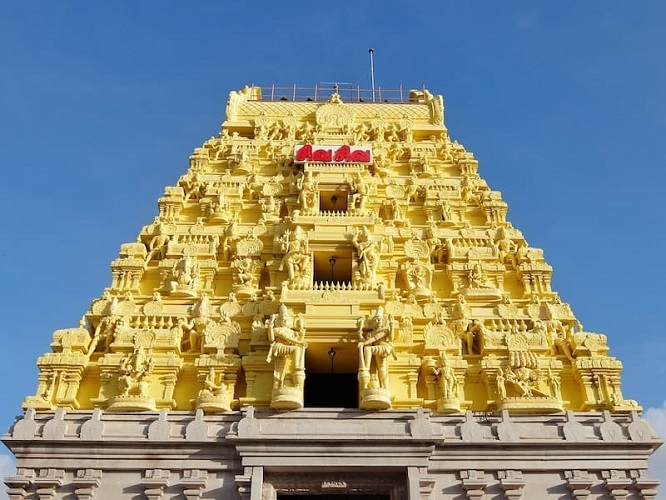 By REKHA NARSIKAR :
Sometimes some locations, monuments or shrines are so significant or unique, that they become the identity of place to which they belong to. Taj Mahal for Agra for instance, Pangong Lake for Ladakh, Golden Temple for Amritsar… so on and so forth. Likewise, when I decided to visit Rameswaram, Ramanathaswamy Temple was the solitary reason the town was known to me! The small vintage town clustered in the Pamban Island in the southern state of Tamil Nadu is predominantly famous as a distinguished Hindu pilgrimage site – one of the Char Dhams as well as the southernmost of the Twelve Jyotirlingas. The majestic Ramanathaswamy Temple is an embodiment of Dravidian Architecture. This temple dedicated to Lord Shiva was built by King Muthuramalinga Sethupathiy in the 12th century. There are two Shivalingas inside the temple. The sand Shivalingam is believed to be installed and worshipped by Lord Rama to atone the sin of killing Ravana, a Brahmin and great Shiva Disciple himself; whereas the Vishwalinga is the one brought by Hanuman from Kailash Parbat. According to another version, Lord Rama installed the Lingam before proceeding to Sri Lanka. The temple spreads over 15 acres and has tall gopurams, a giant Nandi, elaborate corridors and carved granite pillars.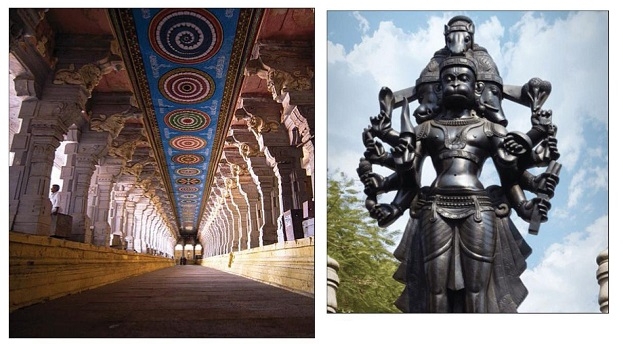 The set of three corridors of Ramanathaswamy Temple is considered to be the longest set of temple corridors in the world. There are 64 Tirthas or sacred water bodies in an around Rameswaram out of which 22 are within the temple. The 22 Tirthas represent 22 arrows in Lord Rama's quiver. Devotees bathe in these Tirthas to wash off their sins and discover divine path. Agni Tirtham, the one situated behind the east gate of the temple facing the Bay of Bengal is the most visited Tirthas of Rameswaram, especially by child-less couples. The beautiful temple and the spectacular settings attract not only devotees but tourists from all over the world. At a distance of about 25 km from Rameswaram is situated the small town of Dhanushkodi. Dhanushkodi literally means end of bow. The place gets its name from the Kodanda bow of Lord Rama. It is said that Lord Rama, with the end of his bow, marked this place for building a Setu or bridge to enter Sri Lanka to save his wife Sita.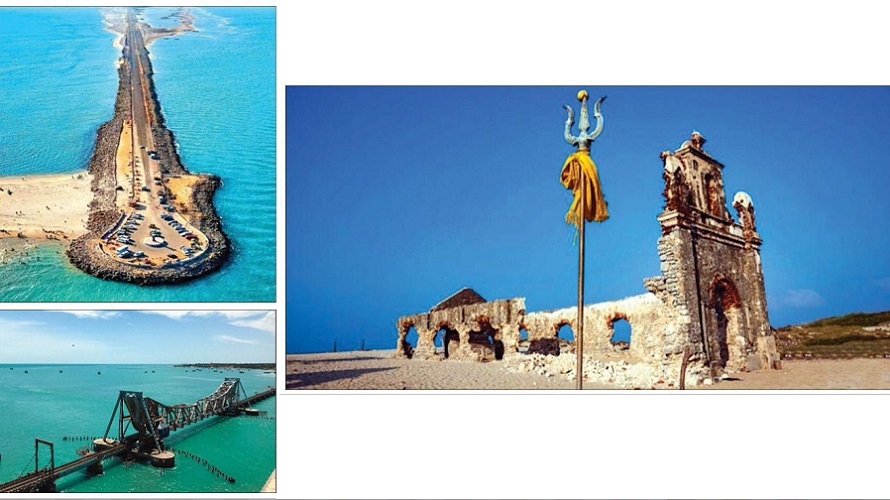 The 'VanarSena' or army of monkey-humans built the Setu with floating stones bearing the name of Lord Rama. Upon their return, Lord Rama handed over the reigns of Sri Lanka to Vibhishana in Dhanushkodi where now stands the Kothandaramaswamy Temple. Legend has it that Vibhishana expressed his fear to Lord Rama that the Indian kings would use Ramsetu to attack Sri Lanka. Lord Rama, therefore, shot an arrow and the setu was submerged a few feet below water level. Some believe that this is the real story behind the name Dhanushkodi. Interestingly, navigation by sea-worthy vessels is impossible in this stretch even in the present day due to superficial level of the sea along the setu! Dhanushkodi was washed away during the 1964 cyclone, but the Kothandaramaswamy temple remained intact! Other important temples in Rameswaram include Jada Tirtham, Panchmukhi Hanuman Temple, Lakshmana Teertham, Gandhamadhana Parvatham and Nambu Nayaki Amman Temple.
The sanctified temples, sacred Tirthas and the fascinating mythical stories woven around each of them make Rameswaram as a prime Hindu spiritual terminus in India. Rameswaram, however, offers much more beyond its indisputable spiritual connect! First and foremost, its Geographical connotations! Rameswaram is located on Pamban Island which lies at the tip of the Indian peninsula in the Gulf of Mannar. Dhanushkodi, on the confluence of Bay of Bengal and Indian Ocean is the southernmost tip of the island. The distance between Dhanushkodi in India and Talaimannar in Sri Lanka is less than 30 km! From Dhanushkodi, one can catch a glimpse of the mythological Ram-setu. Geological evidence suggests that this was indeed a former land connection between India and Sri Lanka. Even today we can see a chain of large stones arranged in one line in the form of a bridge. The 50 km long bridge made with floating stones separates the Gulf of Mannar and Palk Strait. It is an incredible form of architecture, the detailed description of which is found in Valmiki Ramayana. Scientists, geologists, scholars, engineers and architects across the world till date are intrigued with the structure.
The buzz created around the Ram-setu through controversies, legal cases and latest Bollywood movie with the same name has triggered a great curiosity amongst Indians. More and more tourists are now eager to visit Dhanushkodi and have a dekko at Ram-setu! Dhanushkodi is trulyamagical place where we can see the blue waters of the Indian Ocean on one side and the brackish waters of the Bay of Bengal on the other! Digging up to 3 feet in Dhanushkodi is said to exude sweet water -amarvel of Mother Nature! As against the mythologically important Ram-setu, Rameswaram boasts of a modern day technological wonder, the Pamban Bridge! The 2.2 km long, 100 year old railway bridge on the Palk Strait connecting Rameswaram Island with the mainland is the longest bridge in South India. It has a double-leaf bascule bridge sector mechanism that can be raised to let ships pass under it. In 1988, a road bridge was also constructed parallel to the rail bridge.
This road bridge is known as Indira Gandhi Road Bridge. The glass boat ride at Pamban Bridge isa'must do' activity to see exotic fishes and colourful corals. The Sea World Aquarium in Rameswaram is another 'not to miss' spot. It houses a vast variety of sea creatures like octopus, shark, snake fish, sea lizard, crab and many more. The centre also retails beautiful seashell items. Rameswaram is also noteworthy in contemporary tourism in terms of House of Kalam and Kalam National Memorial. Yes, The Former President of India and eminent scientist Late Dr APJ Abdul Kalam was born and raised till his teenage years in the temple town of Rameswaram! His humble house has been preserved asamuseum and is a source of some inspiring information about his life and accomplishments. At the ground floor is a small shop where people can buy handmade souvenirs, craft items and seashell products. The Kalam National Memorial designed and constructed by DRDO was inaugurated in 2017. This world class monument is a blend of Indian and Mughal architecture.
It displays an extraordinary collection of memorabilia including his personal belongings, replicas of missiles and rockets and information about Pokharan Nuclear Test. If weather permits, one can witness the beauty of Rameswaram from a boat. During the boat ride tourists can have a look not only at temple gopurams but also the hovercrafts and Indian navy ships! Apart from Dhanushkodi beach point, there are some other lovely beaches nearby. Olaikuda fishing village in Rameswaram has a picture-perfect seashore with sparkling white sand, coconut groves and sapphire waters. Kunthu Kal village also has an exquisite beach with abundant medicinal herbs. At about 25 km from Rameswaram, there is a lengthy expanse of shiny silver sand known as Ariyaman Beach which has amenities for boating, swimming and water sports. The Kurusadai Island near Rameswaram is home to some unusual coral species, dolphins and sea cows. To visit this place, tourists need to obtain a permit from The Director of Fisheries Department. Foodies can look forward to local food specialities in Rameswaram.
From vegetarian south Indian delicacies and filter coffee to biryani and mouth-watering varieties of mutton and chicken dishes, tourists are spoilt of food choices! The land of temples is also famous for silk fabrics, scarfs and sarees woven from premium quality silk. One can also shop here for khadi goods, sea shell items, jewellery, handicrafts, lamps, decorative pieces and copper ware. All in all, Rameswaram turned out to be a fascinating expedition for me: fulfilling as a place of pilgrimage, enriching as a place of tourist interest! As appropriately cited by Ernes Kurtz in his famous travel quote,Ajourney becomes a pilgrimage as we discover, day by day, that the distance travelled is less important than the experience gained!