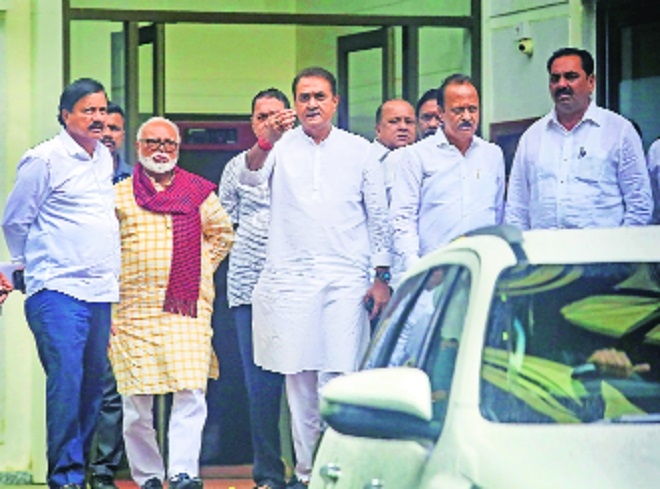 Maharashtra Deputy CM Ajit Pawar along with other party leaders after meeting with NCP President Sharad Pawar at Y B Chavan Centre in Mumbai on Sunday. (PTI)
MUMBAI,
Praful Patel said the NCP chief listened to them quietly but didn't give any reaction
MAHARASHTRA Deputy Chief Minister Ajit Pawar of NCP and some Ministers from his camp met party President Sharad Pawar here on Sunday and requested him to keep the Nationalist Congress Party united, party leader Praful Patel said. Patel said the NCP chief listened to them quietly but didn't give any reaction. This unscheduled meeting between Sharad Pawar and the Ajit Pawar camp was the first one after he rebelled against his uncle and joined the Shiv Sena-BJP Government on July 2.
Besides Ajit Pawar, ministers Hasan Mushrif, Chhagan Bhujbal, Aditi Tatkare, and Dilip Walse Patil met the Pawar senior at the Y B Chavan Centre in south Mumbai. Sources from the Sharad Pawar camp said NCP State President Jayant Patil and chief whip of NCP (Sharad Pawar camp) Jitendra Awhad also reached the Chavan Centre. Speaking to reporters after the meeting, NCP's Rajya Sabha member Praful Patel, who belongs to the Ajit Pawar camp, said Sharad Pawar is like an idol to us and they met him to seek his blessings. "We requested him (Sharad Pawar) to keep the NCP united. We also asked him to think about our request over the next some days and guide us. He listened to us quietly but said nothing," Patel said. He said the Ministers of Ajit Pawar camp did not take Sharad Pawar's prior appointment but came to the Chavan centre directly after they came to know that he was present there.
Commenting on the meeting, BJP's Mumbai unit President Ashish Shelar said, "The Ajit Pawar faction still considers Sharad Pawar as their leader. There is nothing wrong in meeting a senior leader". Notably, Ajit Pawar on Friday visited Silver Oak, the residence of the NCP founder, to meet the latter's wife Pratibha Pawar after she underwent surgery at a hospital here. Ajit Pawar is known to be close to his aunt Pratibha. In 2019, she reportedly played a crucial role in bringing him back to the NCP fold after he and Devendra Fadnavis formed a short-lived Government after the Assembly polls. Ajit Pawar and eight MLAs of NCP joined the Shinde-Fadnavis Government on July 2 and took oath as Deputy CM and Ministers, respectively. On Friday, Ajit Pawar was allotted a key Finance portfolio while his camp managed to bag Cooperative and Agriculture Ministries, which were represented by BJP and Shiv Sena headed by Chief Minister Eknath Shinde earlier.