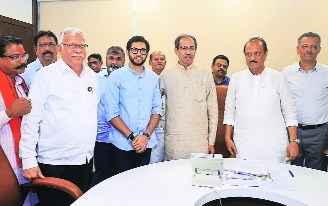 Maharashtra Deputy Chief Minister Ajit Pawar in a meeting with Shiv Sena (UBT) chief Uddhav Thackeray, party leader Aaditya Thackeray and others in Mumbai on Wednesday. (PTI)
MUMBAI :
SHIV Sena (UBT) President and former Chief Minister Uddhav Thackeray on Wednesday paid a 'courtesy' call on Deputy CM Ajit Pawar – their first meeting after the latter split the Nationalist Congress Party, here on Wednesday afternoon. A relaxed Thackeray walked to the chamber of Ajit Pawar, along with Aditya Thackeray and several MLAs of the Shiv Sena (UBT). They exchanged warm pleasantries and the former Boss (Thackeray) and his second-in-command (Ajit Pawar) had a brief discussion.
Thackeray 'advised' the mercurial Ajit Pawar to dedicate himself to the welfare of the masses, and despite the political one-upmanship going on, he must not ignore the problems of the farmers and the ordinary citizens of the State. Later, Thackeray told mediapersons that he was confident about Ajit Pawar and he would do justice to the people of the State in his new role in the Government of Shiv Sena CM Eknath Shinde and Bharatiya Janata Party Deputy CM Devendra Fadnavis.
"I have worked with him for two-and-half years and I know his nature very well. Whatever may be the political games going on, he will extend the desired help to the people. After all, the State treasury's keys are once again in his hand," said Thackeray. This was the first meeting after Ajit Pawar broke away from the NCP on July 1, and joined the Shiv Sena-BJP regime as the second Deputy CM on July 2, along with 9 ministers, and MLAs. Earlier this month, Ajit Pawar and eight other Nationalist Congress Party MLAs joined the Shinde Government, virtually splitting the party founded by Sharad Pawar.