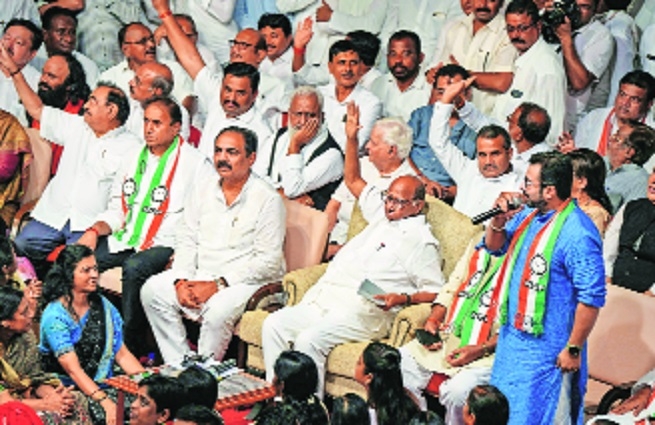 MUMBAI :
NATIONALIST Congress Party (NCP) chief Sharad Pawar on Wednesday warned the Ajit Pawar-led faction that he would not let his party's symbol and name fall into their hands. Pawar also objected to the Ajit Pawar faction using his photograph on their banners. "If they have gone there, why are they using my photo? I will not let our symbol and party name fall into their hands," he said. Pawar senior was speaking at a party meeting organised here to show his strength after his nephew Ajit revolted against him and joined the BJP-Shiv Sena Government in Maharashtra along with eight other NCP MLAs on Sunday. He also warned the Ajit Pawar-led faction that every single ally of the BJP has eventually faced "political destruction" and they will meet the same fate.
"Those who join hands with the BJP and share power get politically destroyed eventually. To steadily weaken its political allies is the BJP's policy. There are enough examples of this in other States," Sharad Pawar said. "Akali Dal was with the BJP for many years, but now it is nowhere. Similar situation unfolded in Telangana, Andhra Pradesh and Bihar. In Bihar, Chief Minister Nitish Kumar realised it and switched to an alliance with the RJD," the NCP president said.
"Those who have gone with the BJP now should not think that something different will happen," he added. NCP leader and MP Supriya Sule accused the Bharatiya Janata Party of being 'the most corrupt party in India'. In a stinging reaction to her cousin and rival NCP leader Ajit Pawar's praise of the BJP and Prime Minister Narendra Modi, Sule said that it was the same Modi who had alleged that the NCP stands for 'Naturally Corrupt Party'. Now, the same BJP leaders -- who had loftily claimed 'na khaunga, na khaunga' have joined hands with the Naturally Corrupt Party (faction) of Ajit Pawar -- and have gulped down all its corruption. "That's why today, I am levelling this charge -- that the BJP is the country's 'Most Corrupt Party' as they have sided with the party they had denigrated on various occasions," thundered Sule, citing examples of the alleged scams the PM had accused the NCP of in the past.