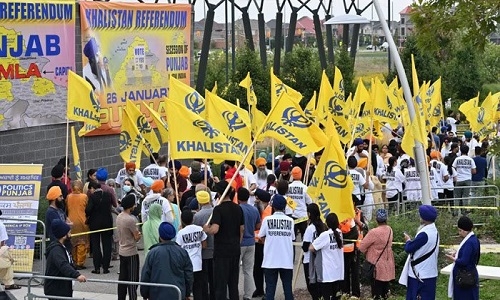 'Khalistan Referendum' was allowed to be conducted in Canada in 2022. In recent past, such events in Canada, UK, US appear to have increased in number, due to lack of any solid action by respective governments against anti-India Khalistani elements.
By Kartik Lokhande :
EVERYTHING seemed to be going fine for India in all these intervening years. However, with the stupendous rise of India in the world in the past around a decade, the old anti-India forces appear to have risen again. Emergence of graffiti and social media posts and re-activation of the Khalistani extremist elements in Canada, the US, and the UK, come as clear indication of anti-India design of 'some invisible forces'. As per an assessment of South Asia Terrorism Portal (SATP), "Khalistani organisations and elements abroad continue not only to engage in high-decibel anti-India propaganda, but also to fund and direct subversive campaigns and terrorist operations in India". SATP assessment also lists some prominent names of these elements -- Wadhawa Singh Babbar, Pakistan-based 'chief' of Babbar Khalsa International (BKI); Paramjit Singh, the UK-based 'chief' of BKI; Lakhbir Singh, Pakistan-based 'chief' of the International Sikh Youth Federation (ISYF); Ranjeet Singh, Pakistan-based 'chief' of the Khalistan Zindabad Force (KZF); Bhupinder Singh Bhinda, a Germany-based key member of KZF; Gurmeet Singh Bagga, Germany-based key member of KZF; Paramjit Singh (Panjwar), Pakistan-based 'chief' of Khalistan Commando Force (KCF); and Hardeep Singh Nijjar, Canada-based 'chief' of the Khalistan Tiger Force (KTF).
Interestingly, in past few months, at least three Khalistanis died in different incidents. These include Paramjit Singh Panjwar, who was shot dead in Lahore (Pakistan), and Hardeep Singh Nijjar who was killed by assailants in Vancouver (Canada). Another Khalistani, Avtar Singh Khanda of Khalistan Liberation Force, died in a hospital in Birmingham (UK) as he was suffering from blood cancer. Of these, Panjwar and Nijjar were known terrorists. Nijjar was closely associated with Gurpatwant Singh Pannun of Sikhs for Justice (SFJ), who had gone into hiding for some time following killing of Nijjar. And, Khanda was the one who had removed the Indian tricolour from the Indian High Commission in the UK. Though they were killed or died, the fact that they operated from foreign soil cannot be missed. As far as Pakistan is concerned, its anti-India hate campaigns and identity as a global safe house for terrorists are quite infamous the world over. In fact, the said SATP assessment also points at the Pakistani Inter-Services Intelligence (ISI) providing 'protection and likely direction' to Khalistani individuals and groups. "While a steady pipeline of weapons and explosives continues to flow into the State (Punjab) -- including rising numbers of drone droppings -- ideologically motivated cadres willing to take up these weapons are conspicuous by their absence," the assessment mentions, providing a hint that the Sikhs in India are weary of Khalistani terrorism. Nonetheless, the Khalistani extremists have continued with their operations from foreign soil.
In December 2019, Gurpatwant Singh Pannun of now banned SFJ visited the British Columbia to promote 'Referendum' for Khalistan. He announced the opening of 'Shaheed Talwinder Singh Parmar Voter Registration Centre', after Parmar, who was responsible for blowing off of Air India flight 'Kanishka' killing over 300 people including mostly Canadians and Sikhs and even children. The same year, 2019, SFJ floated a map of the 'proposed Khalistan' on Facebook. Besides the Indian Punjab (Khalistanis never show Pakistani Punjab in their designs), the 'Khalistan' map showed several Indian States including Rajasthan and even Delhi, but not so surprisingly omitted traditional Sikh territories in Pakistan. Ahead of the Republic Day this year (2023), graffiti emerged on walls in various parts of Delhi reading 'Khalistan Zindabad' and 'Referendum 2020', indicating that the remnants of pro-Khalistan supporters were re-activated in India. However, the Indian establishment today has drawn lessons from history well. There is a well thought out response to Khalistani and other extremism, through synchrony in diplomacy, Intelligence gathering, political and societal outreach. Besides, rightfully, political considerations are not dominating the national interest as far as investigation and action against the anti-national elements are concerned. One recent example of this concerted action is the National Investigation Agency (NIA) filing chargesheet against nine Khalistani terrorists including three listed 'individual terrorists' based abroad operating through network to carry out terrorist activities in India, and six others associated with banned terror outfits Babbar Khalsa International (BKI) and Khalistan Tiger Force (KTF). As per the NIA, all of them have close ties with not only Khalistani operatives in Pakistan and other countries but also drug smugglers and gangsters. So, this dimension of Khalistani-drug trade-gangster nexus is being dealt with currently by the Government. The fact that the three listed 'individual terrorists' are based abroad, however, brings another aspect of the story to the fore -- inaction of the foreign governments concerned in taking action against such anti-India terrorists operating from their soil.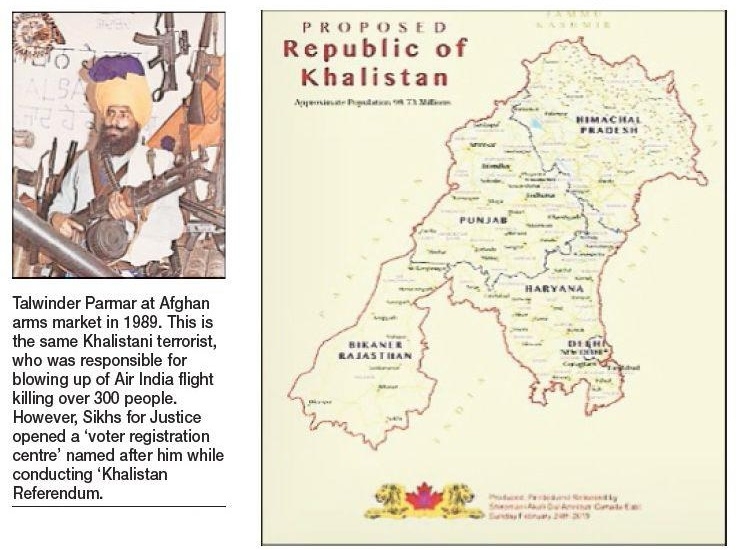 Inaction of Canada, the US, the UK More recently, there has been noticeable increase in pro-Khalistan and anti-India rants in Canada, the US, the UK, and even conduct of a 'referendum' in Australia. Despite the strong statements of the Government of India, the respective Governments have not cracked down on pro-Khalistan elements in respctive territories. In fact, in his book 'The Kaoboys of R&AW: Down Memory Lane', B Raman had cautioned that the efforts to revive Khalistani 'movement' had begun in the UK in 2006 only. As for the co-operation of the foreign intelligence agencies on this count, he said that those were 'not very helpful', and added, "Western countries such as the UK, the US, and Canada had sizable Sikh population in certain constituencies. The local political leaders did not want to antagonise them by co-operating with the Government of India against the Khalistanis". The situation in these countries is so obvious that Khushwant Singh also had similar observation to make: "Of the Sikh diaspora, the most pernicious are those in Canada and the UK. A few misguided Sikhs have taken up the cause of Khalistan, or an independent Sikh country. They make up for their lack of numbers with aggression and intimidation. Whatever resonance they had during and after 'Blue Star', particularly fanned by the anti-Sikh riots, has long gone. Yet, they continue to support -- and fund -- a lost cause. And, of course, commit violent acts. Strangely, both the British and Canadian governments have done little to curb the activities of these Sikhs, or bothered to check the accounts of the Gurdwaras they control."
Also, there is an emerging terrorism-gangster-narcotics nexus. SATP assessment makes an interesting observation in this regard, "...the emergence of a mutually beneficial nexus between absconding gangsters from Punjab, who have taken refuge in foreign countries -- Canada, USA, Armenia, Malaysia, and Australia, among others -- with the proponents of Khalistan and with narcotics smugglers operating from Pakistan. Almost all significant terrorist operations in Punjab in recent years have involved cadres linked with this terrorist-gangster-narcotics network". All these pose a challenge not only to India's security but also to the future of youngsters from Punjab as well as other States. While the Government of India is making its attempts, the Indian diaspora abroad also needs to play its role by actively mounting pressure on the governments in Canada, the UK, the US and such countries to act against anti-India elements. The Strong Sikh Will Though there are efforts by some political elements within India to revive the dark days for Punjab by invoking the devil of Khalistani extremism, the Sikh community is strongly rooted in their Indian origins. They live by the teachings of their gurus, engage in charitable causes, follow spiritual practices, and come across as jolly good fellows. Their firm resolve against participating in secessionist ideas like Khalistan, is proving to be the biggest strength of India in upholding national integrity, unity, and harmony. Here, Dr Manmohan Singh's words to his daughter Daman Singh bring a great assurance to Indians, "The Sikhs have been -- and will always be -- an integral part of the Indian polity. Our gurus sacrificed all their being in order to protect Indian culture and civilization. To separate Sikhism or Sikhs from the rest of the Indian polity is something I never appreciated."