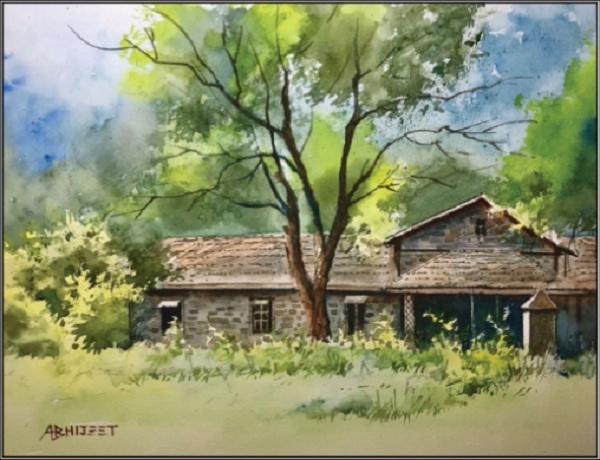 By ABHIJEET BAHADURE :
In an extraordinary journey from engineering to watercolor artist, I transitioned from the world of engineering and corporate world to emerge as a Watercolor Artist hailing from Nagpur, Maharashtra. It's been a journey less travelled, a path I embarked upon with determination. The shift from a corporate job to becoming a full-time artist wasn't without its challenges, but guided by an inner calling and fueled by passion and hard work, I navigated through the waves of change and self-discovery. It reminds me of a quote from Steve Jobs: "You need to love what you do and do it with passion." If you don't love doing it, any rational person would give up. If you don't love what you're doing, you can't do it for a sustainable period of time. For me Art is the means through which an artist expresses his inner thoughts, emotions, ideas, and experiences. It serves as a canvas for self-discovery, a channel to communicate with the world, and a way to provoke thought and inspire. I had a very natural inclination towards art and the creative process of painting and converting a blank canvas into something beautiful and worthy, which is appreciated by many. It all started with a summer Art camp back in the 1990s.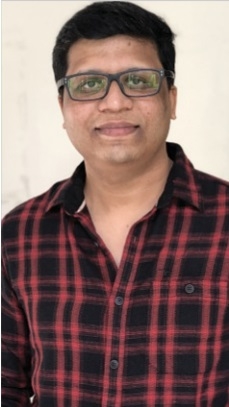 It was organised by the Local Art Group run by world renowned artist Chandrakant Channe sir. That's where, for the first time, I applied watercolor to paper. The joy of painting was so extraordinary that I still remember applying a crimson-red watercolor to a lotus flower vividly. It's really helpful if you start at a young age, as it develops your observational skills. Despite an amazing start in the art field, destiny had other plans. I completed graduation in engineering in the mechanical stream, a post-graduation in marketing, and a master's in personal management, and I landed a corporate job in Industrial Marketing. After spending 8 years in a job, I left and took up art as my full-time career. For me, watercolor was love at first sight; you just fall in love with this medium. I feel that It's the most organic and dynamic medium of all. The transparency, vibrancy, fluidity, and unpredictability of watercolor are analogous to mother nature. It teaches you how to plan, what to do if a plan fails, how to convert errors into something beautiful, how to be prepared for unexpected results and continuous surprises, and how to accept failure positively. Above all, it teaches you to enjoy the journey despite the hurdles and to keep going. Watercolor is a Western Medium, and because of the difficulties of the medium and its unpredictable nature, many find it difficult. During my early days, I was fortunate to come across some good Indian watercolor artists who inspired me to represent more of India rather than imitating Western locations or scenes.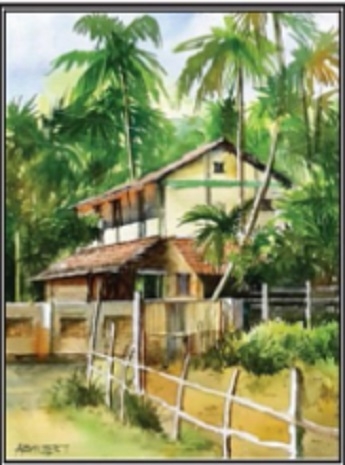 Fortunately, the raw nature of Indian scenes like farms, villages, rural houses, and coastal regions is a natural fit with watercolors. In most of the paintings featured here, the basic aim is to capture the play of light and shadow. Villages or rural scenes are a bit complex in these terms, as they have multiple shapes intertwining with each other. The inspiration for these paintings is largely the villages and homes along the rural belts of India. Some focus on architectural detail, and others on the mood of a local with its particular color and interaction of shapes. Of course, coconut trees abound everywhere in the background. One thing that has helped me in my art journey are strong basics and fundamental and consistent practice. If you have both ingredients, you can also do it. I participated in an art exhibition at 'Art for Humanity' at Ravindra Natya Mandir Art Gallery for a fund-raising event for flood-affected areas in Maharashtra in 2020. My Paintings sold on the first day of the exhibition and I can't tell you how happy I felt. I thought Perhaps the joy and satisfaction of being able to help a common cause through my paintings was greater. My paintings have been selected twice as guest artists for the Japan International Watercolor Institute Online Exhibition in 2023 and 2022. I have won the silver category in the National Online Watercolor Competition 2020, organized by the International Watercolor Society.
Nine of my paintings were featured in the April-June 2021 issue of the Indian Quarterly Magazine IQ, which is published at the national and international levels. I had a great opportunity to judge an art competition at the College Level Art Competition and am aware of the struggles and difficulties one faces as an artist, especially if you are not coming from an arts background, as I have been through those phases. I have taught many students in various fields like bankers, IT, engineers, doctors, business, hobby artists and even professional artists. It feels great to receive positive feedback from them and to be able to empower them in their artistic journey.
Many of my art students have joined the workshop to relieve stress from their busy work lives, and many have used art as a medium to overcome anxiety and depression. I feel very happy that I could bring about positive changes and motivate many students in their art journey. In today's world, the pressure of a comfortable job, financial security, and social pressure restricts us from following our passion, creating an unhappy environment for us and the people around us. Hope is something we should not give up. Continue doing what you love with all your heart and soul. If you have passion and deep interest in any subject, no matter what it is—music, art, dance,sports— you must keep going and should not surrender to the situation or surroundings. Do it at least as a hobby; who knows, maybe your hobby can become your profession one day. Take charge of your dreams and follow your passion. I hope you liked my journey and felt a little inspired.