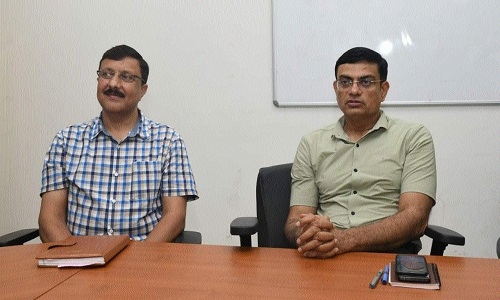 Staff Reporter
Superintendent of Police Tushar Kant Vidyarthi (IPS) reviewed proceedings of 'Shakti Task Force' during a meeting of officers concerned, on Saturday. On the initiative of SP T K Vidyarthi, Shakti Task Force has been constituted for strengthening security for women and girls and prevent eve-teasing incidents in the district. Additional SP (City) Priyanka Shukla (IPS) is the nodal officer for Shakti Task Force, while a Sub Inspector level officer will be appointed as team in-charge everyday and four women police personnel and two men constables will be deployed in the team.
Reviewing the cases, SP T K Vidyarthi sought information about cases registered by Shakti Task Force and current situation in the district. He gave necessary directions to in-charges and personnel of Shakti Task Force for providing a safe and crime free environment to women and girls in the city. Women and girls should feel safe while stepping out of the house for education or work.
Shakti Task Force team has catered with essential resources to take prompt action on crime with women. Separate teams will regularly conduct inspection near colleges, schools, other educational institutions, coaching classes, public places, bus stands, Chowpati, tourism places, malls and other probable places. Team will take stern action against people involved in eve-teasing and other crime against women from 9 am to 1 pm and 5 pm to 9 pm.