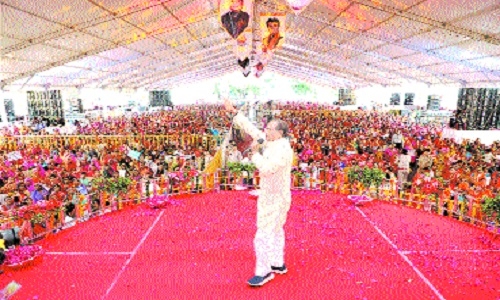 Staff Reporter
Chief Minister Shivraj Singh Chouhan said that cooking gas cylinders will be given to the Ladli Bahnas for Rs 450. Remaining amount will be paid by the State Government. Pucca houses will be given under 'Ladli Bahana Awas Yojana' to those left out in Pradhan Mantri Awas Yojana. The Government will pay increased amount of electricity bills of Ladli Bahna who have received excessive bills. The increased electricity bills will be reduced to zero by this month and from next month they will get Rs 100 on electricity consumption of less than one kilowatt. Chouhan said that from next year, Rs 25,000 will be deposited in accounts of students who score over 60 per cent marks in class 12. Scooty will be given to students who get first, second and third rank in class 12. The Chief Minister made these announcements on Sunday at Ladli Bahna Sammelan in Gwalior. He deposited Rs 1269 crore into accounts of 1.31 crore Ladli Bahnas through a single click. He launched development works worth Rs 387 crore at Gwalior. Chouhan said that family of 1.25 crore Ladli Bahna has now increased to 1.31 crore. Now, married sisters of 21 to 23 years of age and those deprived of getting benefits of the scheme due to having a tractor in their house will also get benefit. Chouhan said that Ladli Bahna Yojana is bringing change in lives of sisters. Many sisters have started their own businesses. Rs 1250 per month will be issued to sisters from the month of October. He said that Prime Minister Modi has reduced price of gas cylinder by Rs 200. Now there will be a provision to give gas cylinders to sisters for Rs 450 and the remaining amount will be provided by the State Government.
Chouhan said that Ladli Bahna Yojana is not just a scheme but a movement. This is a movement to address issues of women making their lives happy. He said that the Government is making all possible efforts to increase income of sisters to Rs 10,000 every month. Scope of activities carried out by women's self-help groups is continuously increasing. The members of women's SHGs have also been given the responsibility of operating three toll plazas. They will get 30 percent of the collection. Union Agriculture Minister Narendra Singh Tomar said that Chief Minister Chouhan is sensitively active in empowerment of women and girls, education of students and making youths self-reliant. Under his leadership Madhya Pradesh has made an unprecedented progress. Tomar thanked CM Chouhan for laying foundation stone of Ghatigaon project costing Rs 344 crore for providing drinking water in 186 villages and other construction works. Union Civil Aviation Minister Jyotiraditya Scindia said that Chouhan has changed attitude of people towards daughters. The impact of efforts made for women empowerment is clearly visible. Chouhan virtually dedicated traffic park, traffic education centre and trainees hostel built in Sirol area at a cost of about Rs 4.96 crore, swimming pool built in 13th Battalion SAF at a cost of Rs 3 crore, newly constructed police station building Girwai costing Rs 1.73 crore, garbage transfer station, gaushala and Jalalpur at a cost of Rs 9.79 crore, 100 seater boys and 100 seater girls hostel of Government Excellence School Murar No. 1 built at a cost of Rs 7.72 crore, Model School Dabra and 100 seater boys and 100 seater girls hostel built at a cost of Rs 7.72 crore, One Stop Centre of Women and Child Development Department built at a cost of Rs 48 lakh and 50 seater each boys and girls hostel built at a cost of Rs 3 crore 46 lakh at Government HS School Haridarshan.
Chouhan performed bhoomipujan of beautification and development of holy place Bhadawna will be done at a cost of more than Rs 144 crore, parking, pathway, public convenience centre and other development works at Kashi Baba Siddh area at a cost of Rs 60.75 crore, Government Girl HS School Padma's building to be built at a cost of Rs 61.07 crore, Government model HS School Bhitarwar's building to be built at a cost of about Rs 40 crore, asphalted road to be built from Health Management Institute to Govindpuri Square going to be built at cost of Rs 3.14 crore, asphalted road and widening work from Reshampura culvert to Tehlari and Sigaura Chowk under Ward-64 of Gwalior city going to be built at a cost of Rs 1.79 crore, asphaltation and construction of drains in various streets of Shatabdipuram at a cost of Rs 2.25 crore. Damrikar new and drain construction work, cement concrete road and RCC etc. works in industrial area Gospura at a cost of Rs 1.91 crore, village Salwai at a cost of about Rs 2 crore, village Gijaurra at a cost of about Rs 3.12 crore and upgradation work of 5 MVA 33/11 KV power sub-station at Rs 2.84 crore, six bedded primary health center and 30 bedded community health centre in Chinaur, which is going to be built at a cost of Rs 5.74 crore. A huge crowd gathered during Jan Darshan Yatra of Chief Minister Shivraj Singh Chouhan in Gwalior and gave a grand welcome with shower of flowers and banging of drums. During Jan Darshan Yatra (Road Show), Chouhan's Vikas Rath, moving ahead amid chants of Bharat Mata Ki Jai and Vande Mataram. Chouhan met Rotary Club, Village Employment Assistant, Petrol Pump Association, national and international level players and other emerging sports talents, medicine traders organisation, advocate council, pulse market trade committee, CAT organisation, JCI club, contract employees, and guest teachers also met and welcomed them during the road show.