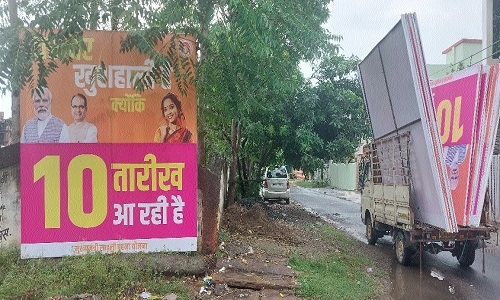 Staff Reporter
Bharatiya Janata Party (BJP) Corporator, Jitu Katare has on Sunday drew attention towards irresponsible act of an agency, wasting Government and public money. Katare said Chief Minister Shivraj Singh Chouhan has on Sunday transferred funds under Government's flagship scheme 'Ladli Bahna Yojana' into women beneficiaries' bank accounts during a programme held on Sunday afternoon.
Unfortunately, it has come to light that after the conclusion of the programme on Sunday, the persons, who were given the contract to put up ad-boards for this scheme, placed large flex, boards advertising the scheme in the evening. Corporator Katre allege that in such a manner the persons concerned are wasting Government, administration and public money.
Katare further mentioned that Ladli Bahna Yojana, an ambitious scheme of the Chief Minister, has witnessed such a glaring lapse. In the flex boards, it is clearly mentioned in bold letters that '10 tareek aa rahi hai' (September 10 is approaching), despite this the responsible persons allegedly erected ad-boards of the schemes till evening only to mint money. Katare stated that elections are approaching and such blatant negligence and oversight still occurring even at this juncture highlight the extent of irregularities and negligence in the functioning and commissions being pocketed at various levels.