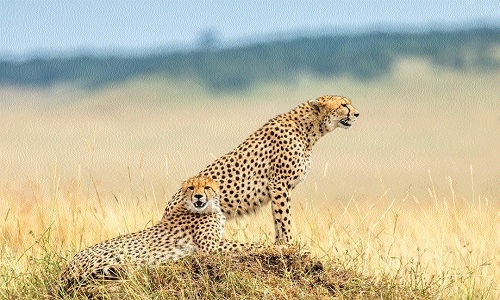 By Ankita Garg
Central Zoo Authority of India (CZAI) has approved the proposal of setting up country's first cheetah safari at Madhya Pradesh's Kuno National Park. This safari is likely to be opened on September 17. In a move to boost up the tourism and generate revenue, the Madhya Pradesh Forest Department earlier proposed to start a safari in Saisaipura area of Kuno National Park (KNP). However, after the deaths of six cheetahs and three cubs due to various reasons, the proposal was put on hold. Now, CZAI has approved the proposal and said to bring additional captive cheetahs for the safari. This would be country's first cheetah safari to attract tourists' footfall.
Officials said that a research and modern museum will also set up in Kuno. This research centre will help to collect information of the species and also help to provide a suitable habitat to the cheetah in Kuno's wild. The museum will help people to understand the history of cheetah in India. Officials said that this would attract tourists towards
Kuno and also provide economic development to Saisaipura area. Director of KNP Uttam Kumar Sharma said, "150 hectares of land has been identified in Saisaipura for cheetah safari. CZAI has given its final nod and we hope to get foundation lay on September 17." Officials said that cheetahs who cannot survive in wild would be part of the safari. These cheetahs can easily sighted by the tourists. They said that instead of keeping such cheetahs behind the enclosure, they would be generating revenue with safari.
He further informed that safari would also be set up as breeding centre to swell the cheetahs' population. Mating of cheetahs in wild is a matter of concern. The issue of cheetahs mating in wild was earlier raised by wildlife experts. He said that apart from cheetah, Kuno has also wide range of animal and exotic plants. For tourism purpose, this place would be preferred by the tourists.