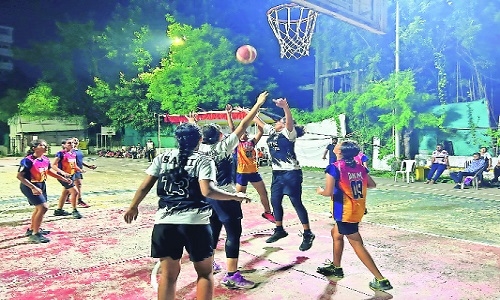 Sports Reporter
HOSTS Dharampeth Krida Mandal (DKM A), district youth champions Shivaji Nagar Gymkhana (SNG A) won their respective second league games to qualify for quarter-finals of the Asmita Khelo India U-17 Girl's Basketball Championship under way at DKM courts on Tuesday. Also, Gurudeo Nagar Krida Mandal (GKM) and Nutan Bharat Yuwak Sangh (NBYS) teams recorded their second successive victory to qualify for last eight stage of the seven-day tournament allotted to Nagpur by the Basketball Federation of India (BFI) and Sports Authority India (SAI).
On third day of the event organised by DKM under the aegis of Nagpur District Basketball Association (NDBA), the home team defeated Pande Layout Sports Club (PLSC) 36-10 (12-0, 6-4, 9-0, 9-0) with Meehira Dhote (12), Sharyu Sahare (5) and Anandi Sonewane (4) doing the bulk of scoring. In other lop-sided contest, SNG A made light work of Spartan A 37-3 (15-0, 10-1, 6-0, 6-2). For the winners, Samruddhi Kotriwar (14) and Gunjan Mantri (6) played well.
The girls outfit from GKM got the better of Spartan B in a low scoring game 17-4 (9-0, 6-0, 0-3, 2-1) with Palak Panchbudhe (5) and Akshara Rokde (4) among scorers.
In an interesting game, Mrunmayee Sathe (14) and Himangi Nimbalkar (11) scored all the baskets as NBYS defeated DKM B 50-23 with the quarter-wise scores reading 9-8, 17-3, 8-6, 16-6. In other games, NKM (Mitali Kohale 7) bt SKM (Siddhi Dahekar 2) 19-3 (2-0, 12-0, 5-3, 0-0) and NASA B (Vibhuti 5) bt PBG B (Bhumi Thaware 1) 7-2 (3-0, 2-0, 2-0, 2-2).