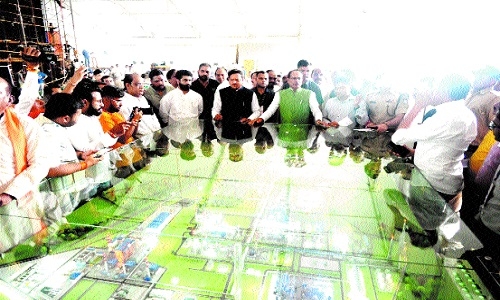 Staff Reporter
Chief Minister Shivraj Singh Chouhan has said that September 14 will be marked as a historic day for Bina. Chief Minister Chouhan was reviewing the preparations for the programme to lay foundation stone by Prime Minister Narendra Modi on September 14 at Bina Refinery Complex in Sagar district. Chief Minister Chouhan said that the petrochemical project is one of the most gigantic investment ever made in Madhya Pradesh. With this investment of Rs 50,000 crore other investments worth Rs 1 lakh crore will be made in different places of the State, which will provide employment to two lakh people. The petrochemical project of Bina Refinery will create more than 4.15 lakh employment opportunities including 2.15 lakh directly or indirectly along with remaining 2 lakh.
Chouhan said that the youth will get employment opportunities, which will fill their lives with hope and enthusiasm. He appealed to the public to celebrate the investment of Rs 50 thousand crore petrochemical project as a festival. Chouhan also said that with the construction of the project other industries will be established in areas including Bina Refinery to increase employment opportunities. Such large scale employment opportunities are rare. After the commencement of this project, industrial hubs will be built in nearby areas including Bina, Sagar, Sironj, Kurwai, Basoda. Chouhan said that hospitality business will increase due to the expansion of industrial area in Bina. Other business activities will also gain momentum.
Chouhan said that the Madhya Pradesh Government has also provided many facilities for the petrochemical project. He said that employment opportunities will increase with the increase in investment in Madhya Pradesh. This will lead to progress in all areas of the state. On this occasion, Urban Development Minister Bhupendra Singh, Cooperatives, Public Management Minister and Minister in-charge of Sagar district, Dr Arvind Singh Bhadauria, MP Rajbahadur Singh, MLA Mahesh Rai, Gaurav Sirothia along with many public representatives were present.