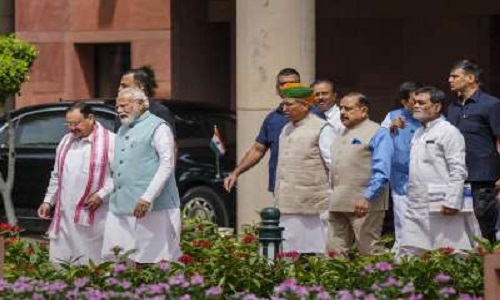 NEW DELHI,
A MEETING of the floor leaders of all political parties has been convened on September 17, a day before the start of a five-day Parliament Session, Parliamentary Affairs Minister Pralhad Joshi said on Wednesday. The invitation for the meeting has been sent to all concerned leaders through e-mail, Joshi posted on social media platform X. On August 31, Joshi had announced a "special session" of Parliament for five days from September 18, but did not spell out any specific agenda for it.
"Amid Amrit Kaal, looking forward to having fruitful discussions and debate in Parliament," Joshi had posted on X. With no specific agenda announced so far for the session, speculations have been doing the rounds if it could be about women's reservation bill, Uniform Civil Code, simultaneous polls or other subjects. It is also expected that the Parliament proceedings will move from the old building to the new one during this session.
Opposition leaders hit out at the Government over the special session of Parliament, saying "only two people" know about its agenda with only a few days left for its commencement. Jairam Ramesh, the Congress General Secretary said in a post on X, "Today is September 13. The five-day special session of Parliament will commence five days from now and nobody -- barring One Man (ok, perhaps the Other One too) -- has any sense of the agenda." Ramesh also listed several previous occasions when special sessions or special sittings were held and the list of business was known in advance.