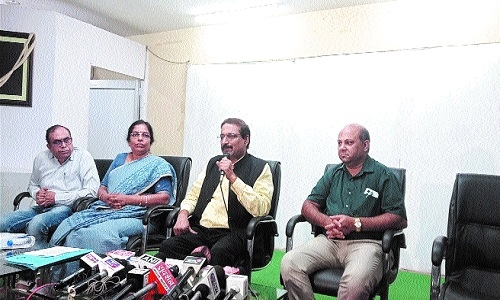 Senior Special
Correspondent
The convocation of Makhanlal Chaturvedi National University of Journalism and Communication will be held on September 15 at Bishankhedi. Vice President Jagdeep Dhankar will be the chief guest on this occasion to be held on Friday. He will also deliver the convocation address. On this auspicious day, the new campus named Makhanpuram of the State's owned university will be inaugurated. Informing about the event, Vice Chancellor Professor (Dr) K G Suresh said that Chairman of General Council and Chief Minister, Shivraj Singh Chouhan and Minister for Public Relations Rajendra Shukla are scheduled to attend the ceremony. The ceremony is being held after a gap of five years. It will be held at Ganesh Shankar Vidyarthi Auditorium in Makhanpuram campus. PG and MPhil students, passed out in batches between June 2018 and June 2023, and PhD scholars will be conferred degrees in the ceremony. The university is organising the convocation for the first time at its new campus in Bishankhedi.
Talking about the new campus, he said that it spreads in 50 acres with 58 lakh sqft built-up area. Surrounded by agricultural fields and has an ambience of biodiversity adjacent to it. Prof Suresh said that the convocation ceremony was pending for a long time and could not be held due to the pandemic, but now this event is going to be held on September 15. Vice Chancellor Prof. Suresh expressed great happiness that for the first time in the history of the University, the convocation ceremony is being organized in the University's own Makhanapuram campus. While sharing information about the new campus, Prof. Suresh said that " it is due to the virtues and blessings of Dada Makhanlal Chaturvedi ji ,that the university, which started from two rooms, now has four campuses including one in Bhopal. "He furthur added that The universit y has sixteen hundred study centres in which about two lakh students are studying. While giving information, Makhanapuram campus near Bishankhedi, has two academic buildings , Takshashila and Vikram Shila. A total of ten departments function in these two grand blocks of four storey building of the university. As per NEP ,Department of Indian Languages has also been established in the university. Department of Cinema Studies : Professor Suresh said that Madhya Pradesh has emerged as a film friendly state and shootings of many films and serials take place in Bhopal throughout the year giving an excellent opportunity to the talented youngsters and artists of the city. This year a new department, Department of Cinema Studies, has been started by the university in which many big artists have also come to the university for seminars and lectures since the opening of this department including the entire star cast of Kerala Story.
The campus houses a huge central library known as Nalanda Library which has more than 42 thousand important books on journalism, media, mass communication, management, advertising, public relations, computers etc. and other subjects, along with departmenta l libraries in each department. Every department also has its own auditorium and conference hall. Prof. Suresh informed. that the university also has a big auditorium named after the famous journalist and editor Ganesh Shankar Vidyarthi, with a seating capacity of eight hundred and fifty people for hosting big events. This year, the threeday National Film Festival organized in Bhopal was also organized in the same premise and in the same auditorium in which many big personalities of the film industry including film actor Akshay Kumar were present. There is also Tansen Muktakash Manch named after Swar Samrat Tansen with a se ating capacity of about four and a half hundred located at the back of this auditorium. Vice Chancellor Prof. Suresh said that in the 32year history of the university, this year's 15th August (Independence Day) was a historic day, as it was marked by th Radio Station, Radio Karmaveer. e launch of university's own community.