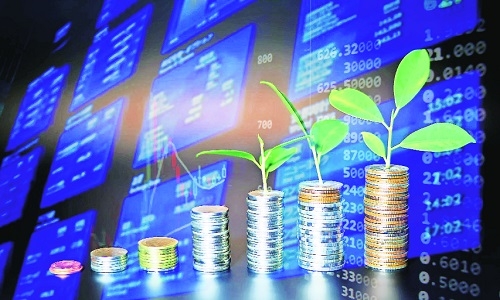 Business Bureau
Credit growth in the banking system's will moderate to 12.1-13.2 per cent in the current fiscal from 15.4 per cent in the year-ago period, a domestic rating agency said on Thursday. Asset quality improvement will continue, while the Gross Non-Performing Assets (GNPA) ratio is expected to come down to 2.8-3 per cent by March 2024, as against 3.7 per cent at the end of the June quarter, domestic rating agency Icra said. Amid the high growth in unsecured credit, the rating agency said there is nothing much to be concerned about on the front, and the vulnerable retail book remains low and manageable.
Icra Co-Group Head Anil Gupta termed the credit growth as "robust", despite the slight moderation from the percentage growth perspective, and added that the agency expects the quantum of credit to also be lower at Rs 16.5-18 lakh crore as against the Rs 18.2 lakh crore in the year-ago period. Banks will chase more deposits this year, and the overall deposit growth for FY24 is expected to come at over 9 per cent. This will lead to hikes in deposit rates and will consequentially have an impact on the net interest margin by over 0.20 per cent, the agency said. This will, in turn, lead to the profitability of the banks being impacted, he said, adding that the return on assets will moderate mildly. Some banks will prefer to protect profitability, and the improvement in net NPAs at a systemic level will not be as sharp as the GNPAs, he said.
Overall, banks' credit costs will come down as the fresh slippage reduces to under 2 per cent, he said, adding that the quality of the books they are left with after taking care of the legacy bad loans is much better. The agency said it remains cautious about the impact of macro-economic shocks on the asset quality, if these were to materialise. State-run lenders as well as private sector banks will be comfortable on the capitalisation front, the agency said, adding that the government will not have to infuse money into any of its lenders. With general elections coming up next year, there is a risk of farm loan waivers, especially in light of deficit monsoon, which needs to be monitored, Gupta said, adding that its estimates do not include the impact of the deficient rains.