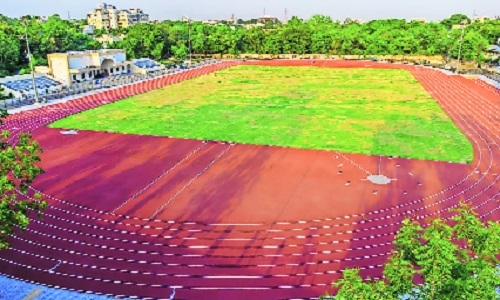 Sports Reporter
THE wait is over. The state-of-the-art synthetic track at Rashtrasant Tukadoji Maharaj Nagpur University (RTMNU) at its Ravi Nagar Sports Complex is ready for competitions. Deputy Chief Minister of Maharashtra Devendra Fadnavis will dedicate the track on Sunday at 2 pm. Vice-Chancellor Dr Subhash Chaudhari will presided over. Pro-VC Sanjay Dudhe will also remain present. During the inauguration function a 4x100 mixed relay race will be held among the invited athletes. The synthetic track has gained international status a few days ago which got International Class II Athletics Facility Track Status Certificate from CEO of World Athletics John Ridghan. Union Minister Nitin Gadkari had laid the foundation stone of synthetic track in July, 2021. After completion of preliminary works, the final phase of work started in March. Experts Beh Hui Poo, Lo Yan Herg and Chiang Moon Chun from Malaysia supervised the work of layering in March 2023.
The application of 12 to 15 mm polyurethane and two layers of 1 to 4 mm granular rubber, 1 to 4 mm EPDM red rubber was completed in the month of April under the experts' supervision. The lane marking was done in May under the guidance of Valery Buchrev and Mamed Akhundov from Latvia. Special arrangements have been made on the track for shot put and javelin throw in the east side and hammer throw area at the west side apart from spectators gallery. There is also jumping pits for long jump and triple jump at the south end of the track. A drainage system is in place to prevent the track from getting damaged. A chain-link fencing has been placed around the track to prevent free movement. Special arrangements have been made on the east and west side of the ground for practice. The football field will remain in centre of the track and a special hydraulic bridge will be constructed for entry and exit which will save the track from getting damaged due to mud.
The ground has a natural football field with an atmospheric sprinkler system. In order to avoid shortage of water, a two-lakh litre capacity water storage tank and rain water harvesting have been installed in the entire area. Media area at finish line, pit for photo finish during the competitions are some of the added features in the area. Registrar Dr Raju Hiwse, Sports and Physical Education Director Dr Sharad Suryawanshi, Dr Dhananjay Welukar, Baptis D'Souza of Athletics Federation of India, Alpana Patne, Executive Engineer, Public Works Department, Atul Gote, Sub-Divisional Engineer, Varsha Ghushe, Praveen More, Junior Engineer Akash Pagare, University Engineer Pallavi Giri, Deputy Engineer Nitin Viswabhar and the then University Engineer Seshrao Tajne have contributed a lot in construction of synthetic tracks.