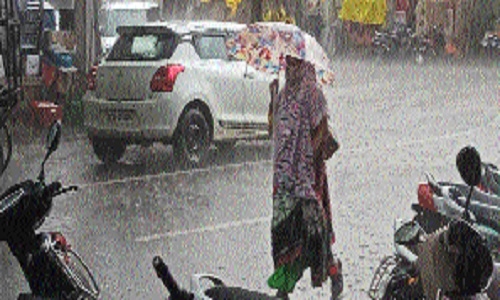 Staff Reporter
Once again monsoon becomes active over entire Madhya Pradesh, including Jabalpur. Most of the districts of the division have started experience light to moderate rainfall. Due to the low-pressure system forming in the Bay of Bengal, most of the regions of the State including Bhopal, Ujjain, Sagar, Shahdol and Jabalpur are likely to witness heavy rainfall. Spokesman of local Weather Department informed that the city on Thursday received 15.8 mm rainfall, which has added the total rainfall figure to 1332.6 mm (52.46 inches).
Last year, during the same period, there was 1195 millimeters (47.04 inches) of rainfall. The fresh spell of rainfall has led to a fall in temperature. On Thursday morning, the minimum temperature in the city was recorded at 24 degrees Celsius. The maximum temperature was 31.5 degrees Celsius, which dropped gradually after the rainfall. Anyways, the entire State is set to witness heavy rainfall once again as significant changes in the weather are expected from Friday. The active presence of a strong system indicates a moderate to heavy rainfall possibility in entire State. Meteorological department informed that significant weather changes are anticipated in the coming days due to persistent low-pressure system in the Bay of Bengal and monsoon activity until September 20.
Furthermore, another cyclonic system is expected to become active from September 20, with its impact observed throughout the State until September 25. As per the Meteorological Department, the state will continue to experience intermittent rainfall. Moreover, a cyclonic disturbance is present in the upper atmosphere of southwestern Uttar Pradesh, which will influence the weather conditions in the State. Jabalpur division may experience heavy rainfall in certain areas. Anyway, the fresh spell of rainfall has giving much needed relief from heat to denizens. Weather Department said similar conditions will prevail for coming days and the city will receive moderate to heavy rainfall.