Parties not involved in State may help in seat-sharing talks among I.N.D.I.A. bloc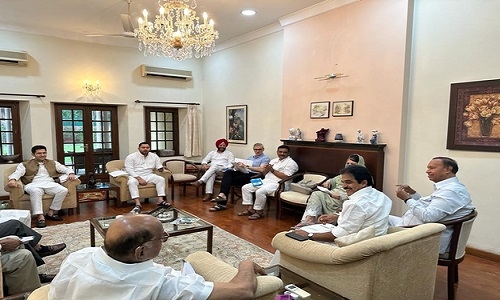 NEW DELHI,
A DAY after the Opposition coalition I.N.D.I.A. decided to start seat-sharing talks for the 2024 Lok Sabha polls, it has been learnt that a representative from a party which does not have stakes in a particular State may act as a "bridge" in negotiations between alliance partners. According to a source in a key Opposition party, the formula for deciding on the strongest party in a State will take into account the results of previous elections. While the parties will finalise the formula at State level in their negotiations, the source said, it would be based on the results of last Lok Sabha elections, or the last Assembly elections, or both, depending on what the parties concerned decide.
In States where there has been no previous alliance between the partners, or in cases where the talks may get stuck, a representative from a party in the alliance which does not have stakes in the State will act as a "bridge" in the talks, the source said. While the alliance is focused on Lok Sabha elections, with elections coming up in five States, some leaders have suggested that there should also be an understanding so that the alliance augments the prospects of the partners in State polls as well. Another source said talks on seat-sharing are already on in states like Jammu and Kashmir, Maharashtra, Bihar and Tamil Nadu, where the INDIA bloc partners are also in alliance in the State. At the meeting on Wednesday, National Conference leader Omar Abdullah had suggested that seats which have an Opposition MP should not be disturbed.