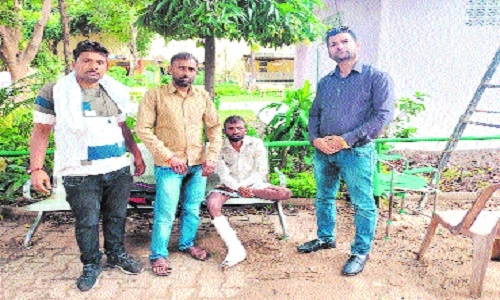 By Kumar Ankur
A 40-year-old man who was found injured near a showroom in the State capital was reunited with his family in Chhatarpur, all thanks to good Samaritans and Bhopal Police. He had climbed atop a showroom and had fallen from there on Tuesday. The showroom staff mistook the man as thief and they informed police. The reality, however, was different as the man Pappu Yadav had gone missing from his home on July 25, and he anyhow reached Bhopal. He was mentally unwell and was unable to tell anything about him to the cops when he was found. He only remembered his name and the name of a police station near his home, said police.
His health had also deteriorated as probably he was surviving on begging only, said a cop. SHO of Chunabhatti B K Sandhu said that the man was badly injured and they rushed him to a state run hospital. She said that the man was unable to describe anything about him but for his name and a police station in his area.
She said that we took help from self help groups and the man was counselled and his family members were traced. A social worker Mohan Soni said that they counselled the man after police informed them about the incident. During the conversation, they found out that he was a resident of Chhatarpur but he only remembered the Harpalpur police station. We co-ordinated with the local police and the cops in Harpalpur helped us trace his family, added Soni. The family members reached Bhopal on Thursday and returned with the man.