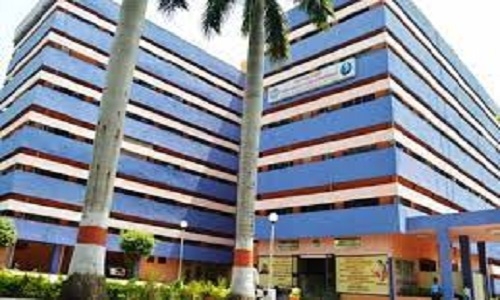 By Bhavana 'Aparajita' Shukla
CENTRAL India's only university of journalism and mass communication is all set to add a new chapter in its threedecade journey with the formal inauguration of a new campus. On September 15, the new project was inaugurated by Vice President of India, Jagdeep Dhankhar and paved the way to provide education with a more modern and smart approach to lakhs of students who come from different parts of the State and country here. As the new premise is not just an expansion of land area at the facility's accommodation of modern techniques and innovation e.g. it has a Newuseum where decade old literature of journalism can be stored in digital format. Talking to 'The Hitavada', ViceChancellor K G Suresh said "This is the first in the State a digital record on the history of media in India is available here. Concept came to light from an American museum dedicated to news and journalism that promoted free expression and the first amendment to the United States constitution, while tracing the evolution of communication and meditation centre also". With the augmentation of learning and teaching techniques in modern form, an education centre can develop an ambience for better understanding. A visit to this new campus suggest that It has an amphi-threater, library, digital library and an auditorium with 800 seats etc. It is techno-friendly, nature friendly and with modern teaching tools.
Since January 2023, the new session has begun in new premises but it has taken some around nine months to come up with full fledged facilities. Since moving records of thousands of students as around one lakh candidates enroll in every new session since last three years, hundreds of computers and more than 50,000 books etc. from old building situated in heart of the city to the new campus sprawls in 50 acres with 58 lakh sqft built-up area at a place located in outskirts of the State capital, Bisankhedi is not an easy, as an official. The project of construction of such a huge building at the outskirts of the capital was begun in 2016, could only get kick start in 2020 and it took around six years to get completed. Established in 1990 by the Madhya Pradesh Government, MCNUJC is named after Pt Makhanlal Chaturvedi, the great editor, poet, litterateur and freedom fighter. The university earned name and fame at national level but it has also attracted short episodes of controversies in its three decade old journey. But with time, brushing aside trivia issues of political interference, the University is touching new horizons whether it is a matter of the country's first Ecomedia-labs or organising G-20 meetings, the university's team is successfully accomplishing such tasks and moving forward. Talking to 'The Hitavada', Vice-Chancellor K G Suresh, says "If there is determination, work itself gets completed.
To give a kick-start, we have to accelerate tender and other procedures as per Government's norms. For ground work there was a need for personnel who can supervise construction work around the clock except seven hours of night when the construction work remains on hold. In our team, all the members are from teaching and official staff. To deploy our human resources was another challenge. In addition to keeping the university's academic calendar, we have to accomplish the task. Former Environmental Minister of Norway Erik Solheim has lauded VC's initiatives to connect students with ecology and environment science. The fourth convocation of Makhanlal Chaturvedi National University of Journalism and Communication was also held here on Friday. Teachers expressed great happiness that for the first time in the history of the university, the convocation ceremony was being organised in the university's own Makhanapuram campus. PG and MPhil students, passed out in batches between June 2018 and June 2023, and PhD scholars have been conferred degrees in the ceremony.
Dr (Professor) K G Suresh: we could accomplish the task. It is a matter of pride that our scholars are being conferred degrees in presence of honourable Vice President Jagdeep Dhankhar, Chief Minister Shivraj Singh Chouhan and Minister Rajendra Shukla. Incharge-Registrar Avinash Vajpaiyee: could main exam, result and admission process on time. Even during COVID19 period, there was no delay in the ongoing session and results. Dr Pavitra Shrivastav, HoD, Public Relations and Advertising:use to update our curriculum. and at the same try to add more values to the existing system. We have started a Newuseum, where historic articles, newspapers and other precious pieces from the media world will be available at MCU. In addition to this, streamwise new courses are being introduced e.g. this year, we have started a new edition of English journalism. In collaboration with UNICEF, in Madhya Pradesh we have organised several programmes on evidence based reporting and child safety for journalists in all campuses of the university at Bhopal, Rewa, Khandwa and Noida. In future too, we will enhance such programmes at our campuses spread across the State.